Jessica Alba: 'I Live My Life the Best I Can'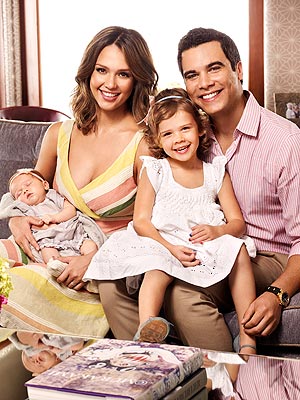 Justin Coit/AUGUST
Going green isn't just a passing thing for Jessica Alba. Since becoming a mother of two, it has become a way of life for the actress.
And in an effort to give other parents easy access to a similar eco-friendly lifestyle, Alba recently launched The Honest Company, a monthly subscription service of baby products.
"I love all of the products — the shampoo/body wash is truly tearless without any numbing agent, the detangler actually detangles and smells delicious, and the diapers are the best disposables on the market!" she tells GILT's Little Inspiration blog.

But just as she hopes to help families lead healthier lives — Alba has plans to expand the line to include feeding products, clothing, and bedding and décor — she is also ensuring her daughters Honor Marie, 3½, and Haven Garner, 8 months, understand the importance of all-natural, too.
"I seek out organic foods, and as a family we try to have a balanced diet that focuses on vegetables, lean protein, and whole grains," she explains.
"I make sure to read the ingredients carefully and try to give Haven homemade, puréed food as much as possible."
However, between her acting career, her new company, and her family of four, Alba admits sometimes finding that fine balance is anything but easy. But, at the end of the day, it's all about her daughters.
"I just live my life the best I can and I compromise on one thing or another. I often wish there were at least two of me and 36 hours in the day!" she says.
"My children's happiness is my priority, so as long as they're good everything else just sort of works out. I have lots of lists, schedules, and labels to keep some sanity and organization."
So what's her secret to looking fabulous despite her hectic schedule? "I have a really quick, but effective make-up routine: great concealer, cream blush, and mascara," she reveals. "It takes 10 minutes and it looks like I've had a good night sleep."
— Anya Leon