Kelly Preston: Breastfeeding Brings Closeness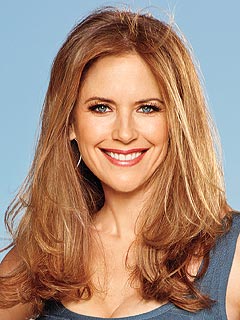 Andrew MacPherson
When the time comes, Kelly Preston admits weaning her 16-month-old son Benjamin won't be easy — and not just for him.
"When I stop, it's going to be really hard on me. I love nursing so much," Preston, 49, tells PEOPLE.
"I love the closeness and knowing that I'm giving him the best as far as nutrients and antibodies. And he really loves it, too."
Not yet on a schedule, Ben shares the bed with Preston and hubby John Travolta. She nurses him couple times a night and four or five times during the day.
"He'll come up and point and go, 'Mama, more,'" says Preston, laughing. "It's so cute!"

Like his big sister Ella, 12, Ben has also developed an eclectic palate: he's already a fan of filet mignon, scallops, salmon, organic veggies and, says his proud mom, "pretty much everything" — and is growing by leaps and bounds.
"New words are coming so fast," says Preston, who recently partnered with non-profits Best for Babes and Healthy Child Healthy World to help educate moms about healthy living. "He loves 'B' words — basketball, bus, belly button, bird. He talks to birds and looks at them in the sky, and loves airplanes, busses, balls and lizards … and his favorite star is Elmo."
Preston, who turns 50 in October, often swaps lifestyle and baby tips with her girlfriends, including fellow moms Jenna Elfman and Laila Ali, with whom she co-hosted an event Saturday at Elfman's house to celebrate moms and educate them about raising kids in eco-friendly homes.
As it turned out, Preston was a little late to her own party. But who could blame her? As she told her guests, including mom-to-be Vanessa Lachey, she was busy nursing!
— Elizabeth Leonard