Edie Falco: My Kids Think Everyone Is Adopted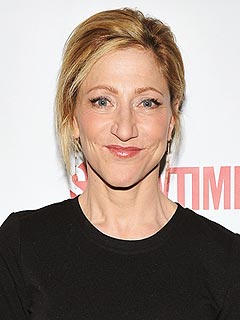 Theo Wargo/Getty
When it comes to expanding the family, Edie Falco's son Anderson has his own ideas on the topic — and the actress is (for now!) more than happy to go along with his thought process.
"My son says, 'So then the lady has the baby in her belly,' and then I said, 'And when the baby comes out she gives the baby to the mommy,'" the Nurse Jackie star, 48, told Anderson Thursday.
"I'm thinking I'm going to wait with that as long as I can, the fact that some of the ladies keep the babies for their own. We will get to that."
The 8-year-old's version of events come from his own experience; He — as well as Falco's daughter Macy, 4 — was adopted and the discussion has remained on the table ever since.

"I mean, the word adoption has been a part of my house. I don't know if they know not every one of their friends is adopted," Falco explains.
"Maybe they think it's the way everybody comes into a family, but we are also living in a time where it's just not the stigma it was when I was a kid."
But even when the time does come to explain to her children the many ways families are formed, Falco — who plans on speaking from her heart —  isn't worried about her approach.
"The second you are handed a newborn it is yours. It doesn't matter what body it came out of. I've never felt more strongly about anything in my life," she says.
After all, she adds, although she had never considered adoption for herself, after realizing "it was time to raise kids," Falco admits things quickly began to fall into place.
"At that time I was single and the idea to adopt came to me," she recalls. "I never really thought about all of the ramifications. I just knew this is what's happening. It's only as I travel through I realize each challenge comes up and you deal with it as you get to it."
Another topic of interest for the family? Falco's fame. While the actress is accustomed to seeing herself on billboards across the country, Anderson and Macy are still getting used to spotting their mom's face in even the most unusual places.
"I was in a pool a number of years ago and I heard an airplane overhead. I was with my son and we looked up and there was an airplane with a Nurse Jackie banner on it going across the sky," she laughs.
"I thought, 'Alright, something's got to give, this ain't right.' My son looks up and says, 'Mommy.'"
— Anya Leon