James Van Der Beek's Free Time Is a 'Thing of the Past'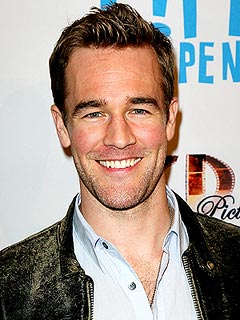 David Livingston/Getty
James Van Der Beek is having no trouble keeping himself busy.
Along with making media rounds to promote his new sitcom Don't Trust the B—- in Apartment 23, he and wife Kimberly welcomed their second child, son Joshua, in March.
"It's a lot of work," Van Der Beek, 35, told PEOPLE on Tuesday. "With one [child], you get a lot more down time. With two, down time becomes a thing of the past."
But the actor doesn't mind having his hands full. "It's the best. I love it!" he says of fatherhood.
The former Dawson's Creek star noticed distinct personality traits right away with both children.

"The biggest surprise is how different they are right out of the gate," he explains. "They come out with their own thing. My son's a thinker. You can tell already."
And even though they are both so young – daughter Olivia is 18 months – Van Der Beek already hopes his kids do not pursue his line of work when they get older.
"There's no part of me that would ever push them into doing [acting] professionally," he says with a laugh.
"As a kid, it's a great form of expression and it's good to do it in a community level like a high school, but professionally I don't know. I would encourage them to explore all kinds of possibilities."
Don't Trust the B—- in Apt. 23 premieres Wednesday at 9:30 p.m. on ABC.
— Dahvi Shira