Hank & JoJo Debuts Adorable Tees for Babies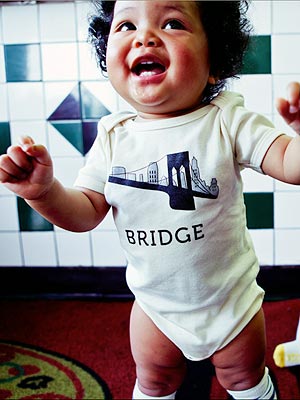 Tory Williams Photography
We became familiar with Hank & JoJo's fun tube socks when we spotted Zuma Rossdale wearing them with mom Gwen Stefani last year.
And ever since, we've been hoping they would expand beyond footwear. Lucky for us (and you!), they have.
This month, the Brooklyn-based brand has launched a new collection of hip body suits ($25 – $28 each) made locally with 100 percent organic cotton.
Available in sizes from 3m to 18m, the mini tees feature quirky urban symbols including a bridge, subway train, cab, etc. Plus, you'll also find cute fashion designs like a pearl necklace, hipster glasses and a tie.
And for all you eco-conscious parents, there's the "Green is the New Black" body suit ($25), which is perfect for Earth Day. To shop the full collection, go to shop.hankandjojo.com.