Inside Shonda Rhimes's Pretty in Pink Nursery
Before Shonda Rhimes brought newborn daughter Emerson Pearl (whom she welcomed via domestic adoption in February) home, the Grey's Anatomy creator worked tirelessly to create the perfect nursery befitting a princess.
Well, mission accomplished. With the help of reVISIONS designing duo Sandie Bailey and Delorse Bond, her dreams of a pretty-in-pink baby room more than came true.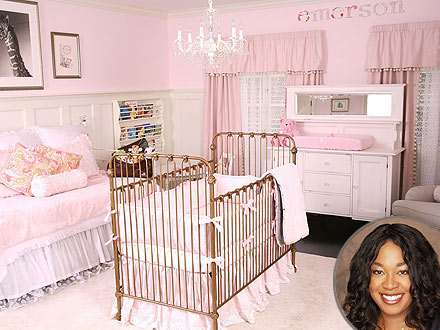 Spantman Photography, Inset: Craig Sjodin/ABC/Getty

A mix of Parisian and shabby chic, the nursery features soft fabrics and traditional furniture — including a day bed and white dresser — that can easily adapt to Emerson's needs as she gets older. The writer/producer and her team of decorators also used Carousel Designs's nursery tool to create her beautiful bedding.
"It was so fun to choose my colors and pick my bedding!" she says. "I'm not someone who can look at a fabric and make a decision so it was helpful to see the visual example of what I was getting."
From designing the nursery to finding the right baby gear, Rhimes, who is already mom to Harper, 10, is somewhat of a parenting pro. "It's exciting to be going through this for the second time. I found that I'm a much calmer mom to a newborn this time around," she adds.
Some of her favorite mommy must-haves are Tribe's roomy diaper bag and Itzy Ritzy's handy Wrap & Roll.
"First-time motherhood is so nerve-wracking — you feel like you have no idea what you are doing! This time I'm just really enjoying every moment of this."
— Anya Leon