Julianna Margulies: Kieran Requested a Sibling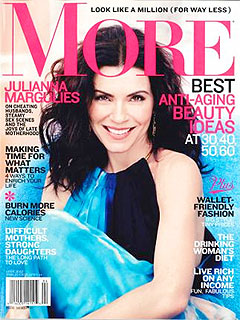 Courtesy MORE
Julianna Margulies's son Kieran Lindsay is skipping the standard puppy plea and going straight for the grand prize: a baby.
After saying goodbye to the 4-year-old one day before work, the actress recalls her little boy's parting words.
"'Mama, when you come home, bring me a brother or sister,'" Margulies, 45, says of her son's request in More's April issue.
"I got in the car and told my driver, 'Joe, I have a really tall order today.'"
But while The Good Wife star is open to having a second child with husband Keith Lieberthal, she isn't willing to let the stress of expanding her family get the best of her.

"Ticktock, as they say. It's not for lack of trying," Margulies says of the couple's baby plans. "But we always say, 'If it happens, great, and if not, great.' There's no pressure."
While another baby would only add to the demands of juggling both her long hours on set with her time spent at home, Margulies realizes the late-night hours are fleeting — and well-worth the time.
"[When Kieran wakes up in the middle of the night,] I haven't seen him all day. I can't wait to hold that little boy! I run into his room and jump into bed with him and smell his little head," she shares.
"I know in the snap of my fingers he's not going to let me in his room. So I'm taking this moment and I'm going to embrace it."
— Anya Leon