Review: Phil & Teds Promenade Stroller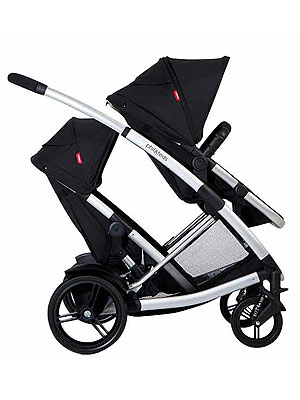 Courtesy Phil & Teds
You swore you would never use a double stroller that places one of your tots on the bottom.
The kid underneath can't see the world and gets the bum end of deal (literally).
Well, you may become a convert after seeing phil & teds new Promenade Stroller ($850 – $1,000), the perfect option for those with a preschooler and toddler.
Just strap in the youngest and the oldest can jump in and out of the bottom seat and ride like they are in an Acela private car with their goldfish, juice box and iPad.
And if you extend your family further (3 is the new 2), the promenade and its eight possible configurations will still keep you rolling.
Check out our full review below:

Things We Like:
We're loving the convertible flat bed seat option which converts to a lie flat bed for newborn. There are no new parts to buy or seats to reconfigure — you just unsnap and unzip!
There's also a great option to have your baby face you and bond when they are young or face out when older to take in the world. Plus, both seats have a one-hand recline, and the main seat goes from upright to lie back to a full recline position.
It's also super easy to covert to a double or back to a single stroller if your oldest gets too cool to ride underneath. And the removable flexible bumper bar makes it really easy to move your child in and out, which is a big plus if they're sleepy and maintaining the "peaceful resistant protest limp body" position.
The telescopic handle also comes in handy for getting in and out of crowded situations (e.g. crowded elevators). Plus, the stroller boasts a super easy fold.
Things We Didn't Like:
It is heavy with a capital H! But it provides great weight training — who needs a kettlebell? Although there is a cool front wheel suspension system, airless tires and lack of shocks can make for a bumpy ride, which can jar a sleeping baby awake in some cases.
And compared to similarly priced strollers, the maneuverability is limited and not as smooth of a push.
With the double seat attached, there is literally zero storage — I had to buy an extra attachment to store sippy cups, phone and wallet. Plus, it would be awesome if there were other color options. Right now, it's only available in black, which feels hot for the summer.
Moms & Babies Rating:
Despite a few drawbacks, the sleek and stylish Promenade is a great choice if you're looking for a double stroller that comfortably sits your tots on top of each other.
— Simone Pratt