Kendra Wilkinson: Baby Hank Is Bilingual!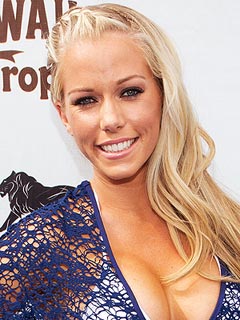 INF
Hola, Mami!
Kendra Wilkinson and her husband Hank Baskett are finding that they need to learn a new language.
Why? Because their 2-year-old son, Hank IV, is starting to speak it.
"We were at a friend's house for dinner and all of a sudden out of nowhere he speaks this sentence in Spanish," the star of WE's Kendra on Top tells PEOPLE while hosting a party Saturday at Las Vegas's Wet Republic.
"He said, 'I would like more milk, please.'"
Wilkinson, 26, says her son learned the phrase from his nanny, who speaks to him in her first language.

"I never expected it, and he's doing so good," she notes. "I was so caught off-guard. I thought he was speaking baby. Now Hank and I are going to have to learn Spanish, but it's a good thing."
— Mark Gray