Ty Burrell Lends Voice to New Disney Junior Series
These days, finding fun, educational and engaging television shows for the little ones seems often impossible.
Good news: On March 23, parents can bid farewell to endless channel surfing with Disney's launch of Disney Junior, a 24-hour kiddie channel aimed at children aged 2 to 7 years old.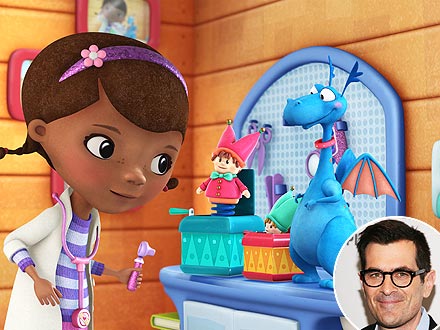 Inset: Jesse Grant/WireImage

"I think when people tune in to Disney Junior, they'll be happy to find programming that reflects Disney's heritage," Senior Vice President Nancy Kanter tells PEOPLE.
"The way we tell our stories really does connect to kids' lives and even though our shows are set in a fantasy world, children can take something away from them, that is relatable to their real world."
The new channel will feature all of your tot's faves including Jake and the Never Land Pirates!, plus some new shows they're sure to love, too.
For instance, meet Doc McStuffins, a 6-year-old girl who comes to the rescue of sick stuffed animals right in her backyard.
And to help the self-titled animated series debut to a great start, actor (and new father-of-two!) Ty Burrell is lending his voice as a Jack-in-the-Box for the premiere episode.
"We think kids are really going to engage with the idea that [Doc McStuffins] can fix broken playthings and make them whole and happy again," Kanter adds.
To check out a sneak peek of Doc McStuffins in action, go to disney.com.
— Anya Leon