Round-up: Cool, Eco-Friendly Lunch Containers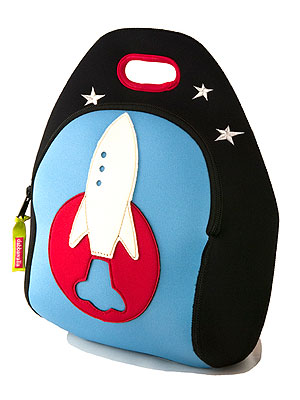 Courtesy Dabbawalla
With a new year comes a new resolve to pack healthy and delicious lunches for our children. But it's not always easy.
A lot of work goes into cutting, chopping, spreading and slicing so that everything is just right. And when half of it comes home uneaten at the end of the day, it's hard to find the motivation to do it all again the next day.
Fret no more! We've found the coolest, eco-friendly lunch containers on the market that both you and your tots will love.
Not only are they easy to pack and fun to carry, but they're guaranteed to get your little ones excited to eat their mid-day meal.
Check out our round-up below:

Dabbawalla's bright and fun bags are certified free of lead, PVC, phthalates and over 100 other harmful substances. But more importantly, there are so many amazing designs to choose from. Who wouldn't want to eat a yummy lunch packed in a ladybug or a spaceship ($30, above), after all?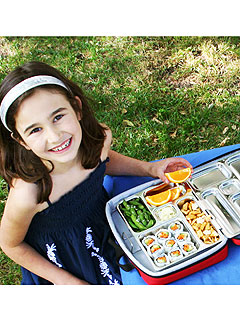 Courtesy PlanetBox
Say goodbye to plastic baggies! PlanetBox's stainless steel lunchbox ($40 to $60) is our hands-down favorite for packing lunch for young children. Not only is it easy to open, but they can see all of their food at once, so they know what to eat. And, it also features a tiny compartment for a dessert or treat.
The dishwasher-friendly lunchbox also comes with two separate containers for packing liquids. Plus, it comes with colorful magnet sets so that kids can customize their lunchbox.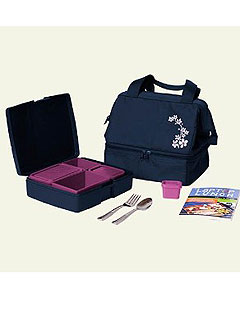 Courtesy Laptop Lunches
Laptop Lunches Bento Boxes ($44) are perfect for older children and even adults. The bento-like method allows you to fill small, removable compartments that can be sealed with lids or left open. You can also move them around to suit different kinds of meals and foods.
Make sure to check out the company's new Dual Compartment Bento Kit ($44), which features an added storage compartment at the top of the bag to help keep everything together at lunchtime. Like all of the boxes, it's made from safe, recycled plastic and is dishwasher and microwave safe. The kits even come with a stainless steel fork and spoon, so you won't have to worry about your kids losing any of your good cutlery.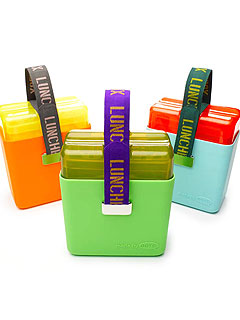 Courtesy OOTS
The Dutch-designed OOTS lunchbox ($20) looks like nothing you've seen before. Little plastic containers pack neatly from bottom to top (less spills!) into this tall, colorful box with a neat groove on the top to hold a water bottle securely. Crafted from foodsafe, as well as BPA- and phthalate-free plastic, it's dishwasher and microwave-friendly.
But, we definitely recommend purchasing the deluxe version ($39.50), since it comes with four small containers and two large ones. We also think it's best for bigger kids because the containers can be tricky to open.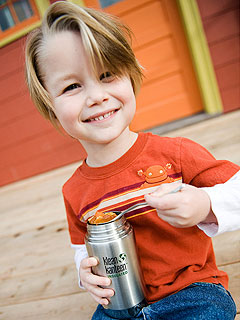 Courtesy Klean Kanteen
We're big fans of Klean Kanteen's water bottles and their new insulated bottles ($23 to $29) are no exception. The 12 oz. size is  perfect for sending kid-sized amounts of soups and stews to school for lunch and they'll stay just as hot (or warm!) as when you packed them in the morning.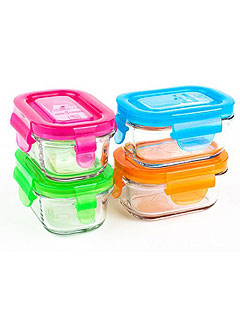 Courtesy Wean Green
We'd be remiss not to mention our newest green love: Wean Green. These amazing glass containers come in all shapes and sizes and are excellent for packing everything from the tiniest snacks right up to the yummiest sandwiches. The containers seal perfectly and are air-tight which means all liquids stay right where they belong and lunch stays fresh and delicious.
— Stephanie Slate