Layla Kayleigh's Blog: Deciding on a Diet
MTV's America's Best Dance Crew Insiders host Layla Kayleigh is letting readers follow along as she tackles motherhood.
Layla and Sirius/XM talk show host Steven Covino's daughter Melody Rain is now two!
In her latest blog, Layla gives us an update on Melody's sleeping issues (she's still in their room, but in her own bed), her little girl's Disney Princess obsession, and asks for your advice on feeding her toddler.
Do you go vegetarian? Gluten-free? Organic? Allow sweets? Share your tips and tricks with Layla in the comments!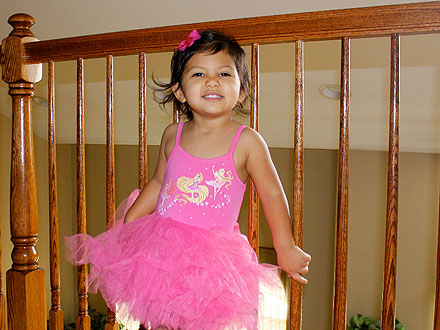 Tiny dancer – Courtesy Layla Kayleigh

Since my last blog, we've had a bit of a victory — Melody is sleeping in her bed, but her victory is that her bed is in our room now.
I read a lot of the comments, and I really appreciated all your feedback and suggestions — they definitely helped.
At the end of the day, I feel like I really don't want to coddle Melody, but when it's all said and done, she's still just a little toddler, y'know? I sometimes forget that she's only 2 and change old. Even though she's her own person, is speaking in full sentences and knows what she wants (and acts like it)!
She's only going to be this little once and needs her mommy to be there for her if she's scared — especially when she's going to bed. I don't mind her being in our room at all, but eventually it will be nice to get her in her own room again when she's ready.
Oh boy, the rate I'm going I'll probably still be tucking her into bed and reading her a bedtime story at the age of 17! I need to get it together. I'm so in love with her, I've become a complete pushover!
Right now Melody's new obsession is everything Disney Princess and ballerina related. When you ask her what her name is she'll say, "My name is Princess Melody Rain Ballerina" — it's too funny.
I just took some photos of her this past weekend — she was dancing around the house and bossing me about telling me to follow her and take pictures. She's such a little ham, I wonder where she gets it from? 😉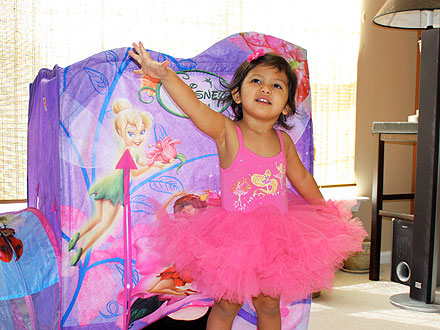 Strike a pose – Courtesy Layla Kayleigh
Before I wrap up this blog, I really wanted to talk to you guys about your children's diet. I've been reading so much on organic foods vs. regular foods, meat vs. vegetarian diet, and I feel like so far I'm in the middle (still educating myself).
I'm not the kind of mom that gives my child EVERYTHING organic, but I'm also not giving her microwaveable and canned foods every day either. I try and buy organic fruits and veggies most of the time and I do offer Melody meat, mostly chicken and fish. I do my best to keep her processed food intake to a minimum.
I know when I'm around my mom or Steven's parents they probably think I'm a little over-the-top hippie, because I don't like it when they give Melody a bunch of sugars, juice, etc. but I know that's what grandparents do.
On the other hand, when I'm around some other friends they look at me in horror when I don't give Melody everything organic and offer her meat in her diet.
With these things, I feel like there needs to be a balance — otherwise you can lose your mind — but obviously I want what's best for Melody at the same time. I'm just curious what your perspective is with kid's diets these days.
What type of foods do you like to feed your little ones? Do you give them meats or dairy and do you let them eat chocolate/candy once in a while, or is that a no-no in your house?
Also let me know if you have any meal suggestions! I feel like I've run out of things to cook and Melody is probably sick of me making her the same meals every day.
Funny as I was writing this, this article about "pink slime" in ground beef came out — it's things like this that freak me out a little when it comes to Melody's diet.
Looking forward to hearing your thoughts!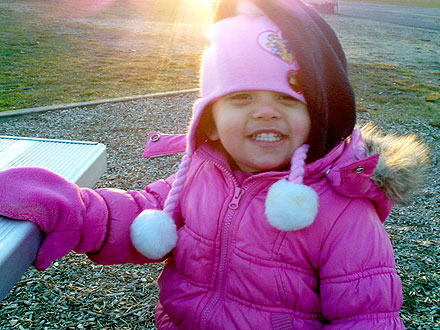 Cheese! – Courtesy Layla Kayleigh
Warmest,
— Layla Kayleigh xx