Curtis Stone: Being a New Dad is 'Exhausting'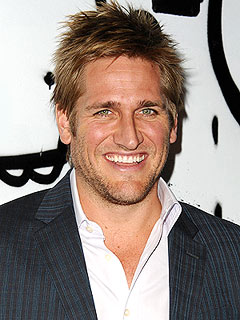 Jason LaVeris/FilmMagic
As a professional chef and host of Top Chef Masters, Curtis Stone has traveled the world and experimented with many a meal, but his latest venture may have him beat.
"It's exhausting. I'm [away from home] at the moment doing a couple of days work and I've gotta tell you, I'm pretty excited about getting eight hours of sleep tonight," he jokes to PEOPLE about welcoming 4-month-old son Hudson with girlfriend Lindsay Price.
But all kidding aside, the Aussie native is quick to gush about his "darling" little boy.
"It's amazing. I've joined that club that I never knew existed," he says. "I've got a couple of nephews, so I've been around kids, but there's nothing that can compare to having your own. It's a really, really special experience."

Becoming a family man has also helped make Stone's commitment to educating families about eating healthier more personal, partly the reason behind his new partnership with Vicks Nature Fusion for a series of webisodes that advocate using all-natural ingredients.
"More than ever, I'm really realizing the pressures on parents. The time pressures and even economic pressures that everybody are under and how tough that is," he explains.
"Of course, when you're looking at your beautiful little baby, the last thing you want to do is give them ingredients or food that's come out of a packet that has a bunch of things in there that you don't like. If you sort great quality, natural ingredients, you're in a much better place."
In his own life, Stone frequents farmer's markets and grows his own vegetables, something he hopes to pass down to little Hudson.
"I go out and do some gardening and I imagine being out there with him," he says, "teaching him how to grow different things and cook with him."
But in the meantime, he's looking forward to more baby milestones, like an impromptu trip to Las Vegas the family took for New Year's Eve.
"I kind of fancied being able to get a photo of Hudson with the Las Vegas Strip in the background to show him that we took him there for his first-ever New Year's Eve celebration," Stone says. "We're really enjoying [being parents]."
Stone's new show with Cat Cora, Around the World in 80 Plates, will premiere May 9 on Bravo.
— Kiran Hefa