Jessica Alba: How I Handle the Paparazzi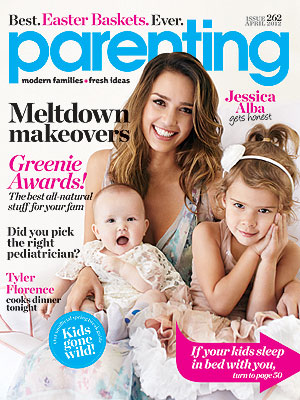 Mark Liddell for Parenting
Jessica Alba isn't afraid of telling a few little white lies — especially when it comes to the sake of her 3½-year-old daughter Honor Marie.
"When the paparazzi follow us, and she asks me what they're doing, I tell her, 'They're just taking pictures. Isn't that silly?'" the actress, 30, says in the April issue of Parenting.
"I don't want her to have anxiety, so I tell her they do that to everyone, not just our family."
Alba has also learned to stretch the truth at mealtime, telling her eldest that some beverages are reserved for the older crowd.
"I serve Honor flavored sparkling water — she thinks that it's soda and that's what I let her think," she reveals. "I told her that 'brown soda' is only for adults and she believes me. Ha!"

But the healthy habits aren't just for the toddler; Alba — who welcomed her second daughter Haven Garner seven months ago — has also been watching what she eats.
"I put on a lot of weight with Honor; it took a long time to get back in shape. My husband [producer Cash Warren] made bacon for me every morning, and at night we ordered a minimum of five desserts," she recalls.
"[With my second pregnancy], I had a toddler to take care of and I was starting [The Honest Company], so I made healthier food choices, did prenatal yoga."
And now Alba finds herself settling into life as a mother-of-two as she focuses on her first and foremost priority: her family.
"Before I had kids, I was always so focused on my career, and it was always such a big thing for me," she explains. "That's probably the thing that's surprised me the most about motherhood — just how secondary everything else is. Nothing else really matters to me aside from my children and their well-being."
In her household, Alba has accepted the role of disciplinarian and believes much of her ability to enforce the rules stems from her rebellious childhood.
"I think it's because I was kind of a naughty kid myself. I'd push my parents' buttons and test them to see how much I could get away with," she explains, adding her counterpart Warren has always preferred to walk the straight and narrow.
"[Cash was] the straight-A student who was everyone's sweetheart. It was never in him to be naughty. I think I just know, from me being that other kind of child, how to cut off bad behavior and redirect it."
And with her firsthand experience under her belt, Alba is more than happy to get serious when needed.
"When Honor tries to do something she shouldn't, I have to say to Cash, 'Let her know right from the beginning that she can't,'" she says.
"I'll put her in a timeout and tell her, 'Think about the choices you've made.' Then I'll come back and say, 'Now it's time to stop crying and think.' Then I'll come back again and ask her, 'Now, what did you learn?'"
While the mother-of-two may be used to laying down the law, she couldn't be more proud of how Honor has taken on her latest role of big sister.
"To prep Honor for big sisterhood, we'd say things like, 'You know, when the baby comes, babies can't have lollipops or go on a swing.' Honor realized she was going to be the cool sister," Alba shares.
"Now, she's really into being my helper. When I change Haven's diaper I ask her, 'Can you throw this away for Mommy?' … She's really into it. I tell her, 'Oh, you're such a good big sister!' and give her a high-five."
In addition to involving Honor in all things baby, doting dad Warren has also made his firstborn feel special with extra father-daughter time.
"My husband Cash is a super dad. If I'm with Haven, he'll make Honor lunch or take her to the park," Alba raves. "They see movies or draw together — she'll even watch sports with him."
But when the weekends roll around, the whole Alba-Warren bunch head to their traditional brunch to regroup and spend time together as a family.
"We wake up and go to our favorite deli, where Honor has pancakes, bacon … and matzo ball soup. She's obsessed with that soup!" Alba laughs.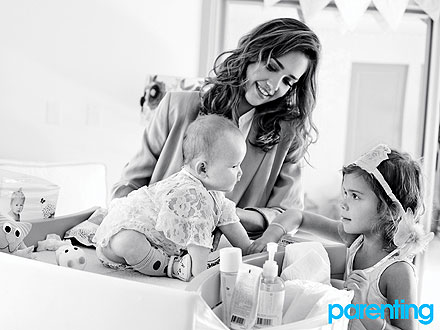 Mark Liddell for Parenting
— Anya Leon
Click here to see more photos from the shoot, or here to watch a video of Alba chatting with editor-in-chief Ana Connery.