Heidi Klum: My Kids Make Me Feel Beautiful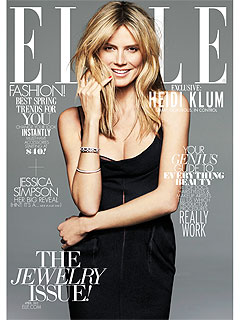 Courtesy ELLE
After her painful split from singer Seal, Heidi Klum coped by spending all her time at home, surrounded by the people she loves most — her children.
"I'm a lioness," she tells ELLE in its April issue. "I have four cubs. I'm a mom. I want to take care of my kids and protect them."
Klum, 38, who was married to the singer, 49, for seven years until their January separation, tells the magazine that even though she's an internationally renowned supermodel, Leni, 7½, Henry, 6½, Johan, 5, and Lou, 2, are the ones who make her feel most beautiful.
"In my job, people tell you that all the time: 'This shoot was great. You look amazing.' But you never know what they say when you turn away," she says.
"But the kids don't edit anything. When they kiss you and tell you they love you and say, 'Mama, you're the best' — that's really the only thing you care about."
To that end, she's also open to letting them be themselves and is trying her hardest not to "put them into a box."
"I've done that in the past," she admits adding, "They're all different … I think Henry is the artistic one. But I want him to figure out for himself who he is."
The same is true for her other son and two daughters. "[I want them] to find themselves. To do what they enjoy doing," Klum says."To find someone they can share their lives with and be happy."
— Lesley Messer