Sienna Miller's Pregnancy Is 'Progressing Nicely'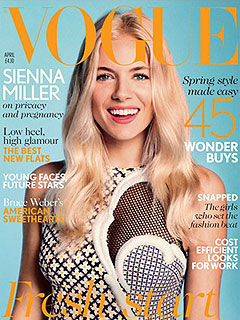 Courtesy Vogue U.K.
News of her pregnancy broke in January, but Sienna Miller chose not to address the rumors.
Instead, the actress let a photo tell the story, debuting her baby bump at a New York event without speaking a word.
"I'm in my second trimester, so I'm I-can-talk-about-it pregnant, even though I'm under strict instructions not to say anything as it would completely defeat the point of everything I've tried to achieve in the last eight years," Miller tells Vogue U.K. in their April issue, referring to her inclusion in Britain's phone-hacking scandal and subsequent testimony.
"I'm feeling fine," she reveals. "It's all progressing nicely and it's very exciting."

Miller, 30, and boyfriend Tom Sturridge expect their first child in July.
— Sarah Michaud