Kate Beckinsale: I Flunked Adolescence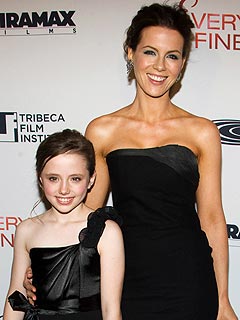 Charles Sykes / Rex USA
Kate Beckinsale is dipping her toes into uncharted waters: life with a teenager!
But the actress — and mother of 13-year-old daughter Lily Mo — is prepared for even the choppiest of waves.
"I had a child young enough that it doesn't feel too far away from my own experience," the Total Recall star, 38, tells PARADE
"I feel like I flunked adolescence really badly. I'm very supportive of how tricky seventh and eighth grade are for girls … but [Lily is] doing great."
Lately, the mother-daughter pair have spent much of their time bonding as book buddies. Their choice? The popular Hunger Games trilogy.

"Actually, my daughter's school encouraged all the parents and teachers and students to read The Hunger Games, so it prompted a massive discussion of it," Beckinsale explains.
"For some reason, my daughter was a little bit resistant to it at first, but then we just were all completely overwhelmed by it. We can't wait for the movie. It looks fantastic."
But just as she could be relaxing with Lily one minute, Beckinsale admits she could easily be logging long hours on set the next.
"It tends to be one extreme to another. I guess that's how I've managed it all this time," she says. "I'll do a crazy blast of working and then I'll be home for a bit."
Calling the balance between her personal and professional lives "tricky," Beckinsale relies heavily on her parents for extra help — but admits there is one thing she just can't seem to conquer.
"I think the thing you miss out on is some extra hours of sleep, which would be really welcomed, but that tends to fall behind!" she shares.
— Anya Leon