Busy Philipps Teams Up with Rue La La to Give Back to Charity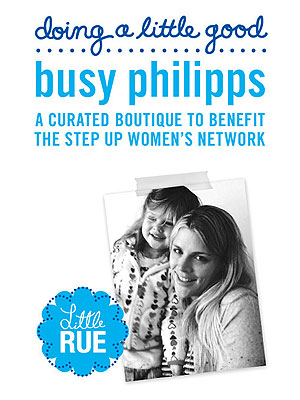 Courtesy Rue La La
When members-only online shopping site Rue La La approached Busy Philipps about joining forces, the Cougar Town actress jumped at the chance.
"I'm such a sucker for a sale!" she told PEOPLE. "The stuff that I buy for [daughter Birdie] is generally from sale websites."
But it wasn't just the opportunity to share deals on hand-picked style finds for moms and kids that piqued her interest.
Philipps was also excited to have a portion of the proceeds from her "Doing A Little Good" boutique (which launched today) give back to the charity of her choice, Step Up Women's Network, a non profit dedicated to connecting communities of professional women and underserved teen girls through mentorship and networking.

"I had never heard of them until I was asked to come to a fundraising year-end luncheon they do every year. [And] one teenage girl was saying she was in a gang and had been horribly abused and she was failing out of school," she shared.
"[Then] a Hispanic CEO from Step Up came to one of her assemblies and she thought, those are the nicest shoes I've ever seen, I'd love to own a pair like that someday. And the girl signed up for the program, and by the end of high school was graduating with honors and going to Stanford."
If you love saving big on designer labels and doing good, make sure to check out Philipps' sale. It features a number of her favorite brands including Twirl & Twigs, Alex Toys, Tibi and Ports 1961.
You can also view Rue La La's exclusive interview with the actress at ruelala.com/blog.
— Shanelle Rein-Olowokere with reporting by Kristen Mascia