Round-Up: Cozy Stroller Buntings, Footmuffs and Blankets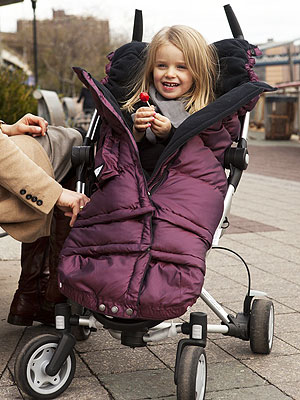 Courtesy 7AM Enfant
Baby, it's cold outside!
That's why it's so important to get the right gear to keep your little one warm.
So, we trolled our favorite online shops for stroller buntings, footmuffs and blankets to keep your cute cargo cozy (and stylish!) while on the go.
See our fave picks below!
When you're in the mood for a splurge, 7 A.M. Enfant's sleek Blanket 212Evolution gives you plenty of bang for your buck.
Starting at $189, this pricey bunting is designed to grow with your child, from infancy to preschool.
The fluffy bomber-like material (with poly insulation) fits nicely into a variety of strollers — add matching booties and hat to complete the arctic look!

For small babies only, the company's Baby Shield ($138) is warm but lightweight for those chilly spring days — celeb mom Naomi Watts is a fan!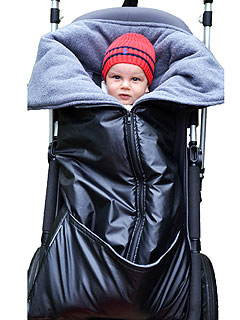 Courtesy Tivoli Couture
Meet the transformer of stroller cover-ups: Tivoli Couture's Miracle Wrap Bunting System"] ($98) is a bunting, footmuff and blanket all in one!
The nylon and fleece material keeps your kiddo snug in a variety of ways — on freezing days zip the blanket up to baby's chin, when it's warmer, expose the feet. The best part? When old man winter's gone, it makes a great picnic blanket!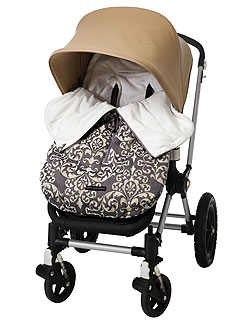 Courtesy Petunia Pickle Bottom
Wrap your little one in plush velour with Petunia Pickle Bottom's wind-resistant chenille bunting ($149) that boasts thoughtfully placed zippers which easily tuck baby away from the chill.
Machine washable, it fits children up to a year old and is now available in a classic (and very British!) Earl Grey pattern.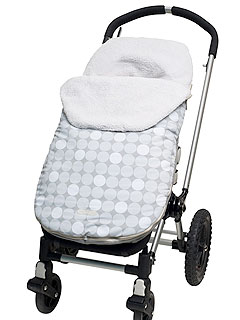 Courtesy J.J. Cole
J.J. Cole's weather resistant toddler bunting is a cute (and cost-effective!) way to keep little ones warm in the elements.
The shearling lined Bundleme starts at $43 and has a removable top that comes off quickly for those last minute temperature changes.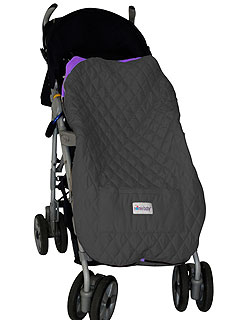 Courtesy Nomie Baby
Nomie Baby's fleece-lined toddler stroller blanket ($49) is a colorful way to protect baby from harsh winds and bitter cold.
And with 10 percent of all profits donated to infants in NICUs, we can't think of a better way to warm the heart!
— Amy Jamieson