Radio Disney's Ernie D Wants to Get Kids Moving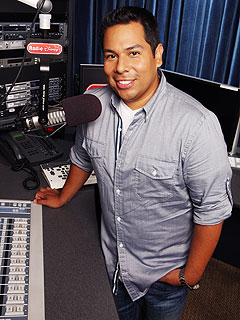 Courtesy Disney
As the father of four kids, Radio Disney on-air personality Ernie D understands the challenges parents face in trying to encourage their kids to maintain an active lifestyle.
"We got my son a Nintendo 3DS for Christmas. Ever since then, all he wants to do is play," he tells PEOPLE. "I'm like, 'We need to go outside; you need to have fun!' I want him to get outside and be active and be able to do fun things and play sports. That's a part of life that shouldn't be neglected at all."
To help spread the message, Ernie D (and a few of the Disney XD stars) joined First Lady Michelle Obama to emcee a one-day event at Walt Disney World Resort on Feb. 11 to mark the second anniversary of The White House's "Let's Move" campaign, in conjunction with Disney Magic of Healthy Living, that encouraged kids to get moving through dance.

"Music is the universal language; it is a good way to get kids active," he says. "It's also a good way for parents to find out what the kids are into. If you like this Taylor Swift song or Rihanna song, let's just get up and dance to it and act crazy for a little while. It's a good way to bond as a family, and at the same time, it helps you stay healthy and get your heart pumping."
The strategy is one that's proved successful in Ernie D's own home, where he's convinced his 6-year-old son to put down the video games using dance.
"I've found that challenging him [gets him moving], like, 'I bet you can't do this dance move,'" he says. "I think that creates a little urge inside of him to want to get up and either come outside and kick the soccer ball with me, or if we're inside, put on our favorite songs and dance to them."
And as an added bonus, it seems the extra time dad and son have spent together has benefitted Ernie D as much as it has his kid.
"I have this video on my phone that I always watch whenever I'm having a not-so-good day," he says. "It's him doing one of the dances on Dance Central and it just makes me smile every single time I see it."
– Kiran Hefa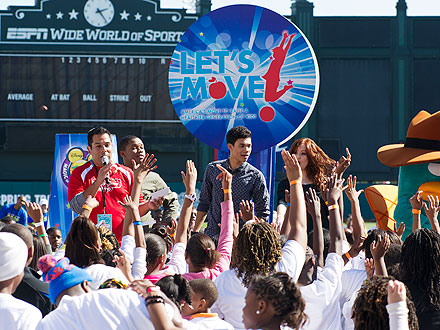 Craig Sjodin/Disney