Elisabeth Röhm's Blog: The Heart Truth
Elisabeth Röhm, best known for her roles as Serena on Law & Order and Kate on Angel, is marking a year blogging for PEOPLE.com.
The actress recently appeared on CSI: Miami. She also has a role on The Client List and upcoming films Transit and Officer Down out later this year. She can be found on Facebook, Google + and @ElisabethRohm.
In her latest blog, Röhm — mom to 3½-year-old Easton August with fiancé Ron Anthony — remembers her mom as the inspiration for getting involved in women's heart health, and shares her experience at New York Fashion Week.
Have you lost your mom? Has heart disease affected your family or friends? Let Elisabeth know in the comments.

It's that time of year again — where we are reminded of The Heart Truth.
The truth of the matter is that as women, our hearts are so very vulnerable. It is the leading killer of our sex. As you may or may not recall, heart disease has touched my life in a profound way. Last year I confided in you, my readers, about my mother's recent death from heart failure. She passed away at age 60, when I myself was just 36.
It was then that I faced the fact that I was no longer anyone's baby girl. I had lost my best friend. I called Mom almost every day and told her everything. I must have had her feeling anxious most of the time, for I never censored myself when it came to talking to my mother. How was I going to live without my guide and consul? Who would be there to tell me what to do?
My faith was tested. Everything my mother had raised me to be became the very life raft that kept me afloat. That inner strength still keeps me going, even on those days that I miss her terribly and dread the fact that my darling Easton will not have the benefit of knowing my incredible mom.
Losing a parent is a bitter experience. Yet it is then, during the toughest times, that we see the spirit of their parenting rise in us. It's how we deal with love and pain (usually a bit of both) that shows us the work of our parents.
It's true that I am still nursing a broken heart and not a day goes by where I don't ache for my mommy. That's the truth of the matter. But it's because of her that I have been able to hold my head high, feel grace in my heart and even joy in knowing that she would be proud of my survival. Most importantly, she would be proud of my parenting.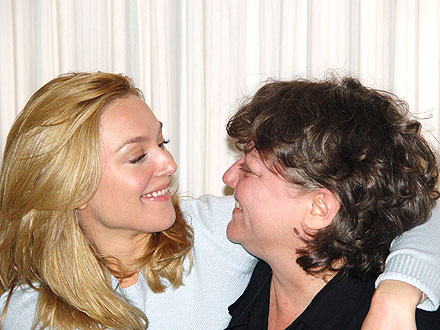 Me and my mother Lisa – Courtesy Elisabeth Röhm
When Mom was in a coma — which can often be the case after a major heart attack — I remember sitting next to her hospital bed, knowing that she was gone. Yet I could feel her holding on to life to be with Easton and I, if not for one day more. At one point, I asked to be alone with my mother, as there were many relatives milling in and out of her hospital room while I sat there vigilantly for days.
When the door had closed behind that last loved one, I pulled myself up onto Mom's bed and told her that I was going to be fine and that it was okay to let go. I thanked her for her parenting, her consistent loving, tender hand and honest wisdom. She had prepared me for motherhood as well as the loss of my own childhood with true courage. And even though my own heart was being torn apart, I knew my foundation was strong because I'd had an incredible parent.
That is the gift of parenting, I guess. Knowing that your children will be okay without you; that they will be kind, brave and effortless in their attempt to live a fulfilled life. That their hearts will be open and that when they stumble, they will not hesitate to try again, because their mom or dad told them that they could do anything!
One of the many things my mother insisted on with me was that I defend the rights of others and find a good cause to fight for in my life. Now, there's none better than heart awareness. It's become my own call to action. My mother wouldn't have had it any other way.
That being said, I want to share with you the wonderful experience I had during New York Fashion Week. I was honored to walk in my first runway show (yikes!) for The Heart Truth's Red Dress Collection. For the last 10 years, The Heart Truth campaign has brought awareness to heart disease through the Red Dress Fashion Show.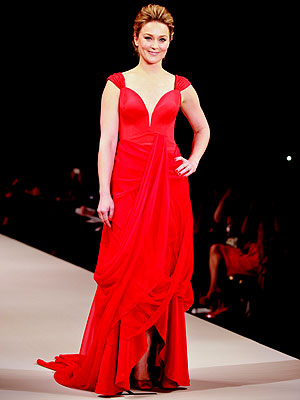 On the catwalk! – Charles Eshelman/FilmMagic
Needless to say, it was a very personal experience to have shared with all the other participants. Especially after my last blog, it was just really fun to throw off the mom clothes and be on the catwalk.
I loved my Nicole Miller dress and loved walking to the song that they chose for me, which was a dance remix of the Law & Order theme! It was unforgettable!
The joy of sharing in a powerful, life-affirming moment with a group of empowered women — from Christie Brinkley to Michael Phelps's mom Debbie — was memorable and I am so grateful to The Heart Truth for bringing attention to such an important cause and defending the health of all women.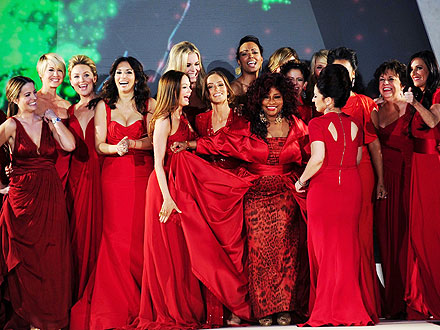 Jeannette Torres-Alvarez, Jenna Elfman, me, Giselle Blondet, Rose McGowan, Rebecca Romijn, Minka Kelly, Aisha Tyler, Chaka Khan, Jennifer Nettles, Cindi Leive, Gloria Estefan, Christie Brinkley, La La Anthony, Debbie Phelps and Patti Stanger – Jennifer Greylock/INF
That said, it was so fantastic being out and about for fashion week in my hometown of New York City. Off went my ratty grey sweater, jeans and comfortable shoes as I got into the spirit of the moment with some other super glamorous, super costume-y and somewhat unattainable looks in various other fashion shows. Of course, most of those fantastic pieces don't make any sense in my own closet these days.
That is, until I came across the lovely Leila Shams and her comfortable flow-y silks, drape-y jersey and cotton blends. The true glamour came in the prints: gems, animals, broken mirrors. I was covered from head to toe and still felt sexy. Not to mention those prints of hers could hide a multitude of mom stains if need be. Not yet a mom, Leila knew just what our closets needed and I was so excited to have stumbled upon her!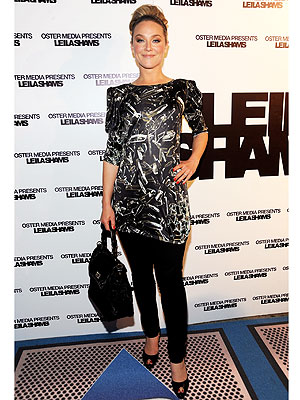 At the Leila Shams show – Rabbani and Solimene Photography/Getty
It was a wonderful week of female expression and empowerment. I know if my mother were alive today, she would have enjoyed the whole experience/fiasco of fashion week. She would have cheered for those women who strutted their stuff down the runway in their red gowns for The Heart Truth with the bold message of living long, healthy lives!
We are women, hear us roar!
— Elisabeth Röhm