Review: BuggyLOVE Organic Stroller Cleaning Collection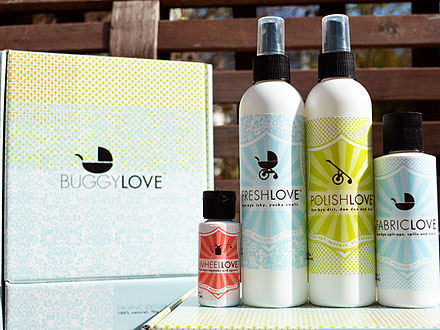 Courtesy BuggyLOVE
Did you know that Legos can be germier than the loo? It's true! Toys, binkies, car seats and strollers are high up on the list of baby gear that bacteria love. In fact, 65 percent of cold and flu viruses are transmitted through contact with regular household items, where contagious little critters play hide and seek.
We know that keeping your little one's stuff clean can be a chore, but try throwing some love — BuggyLOVE that is — into the mix. The brand new organic cleaning line will make your tot's ride look (and smell) luxe.

The set includes four signature products, which are made with aromatic, non-toxic, essential oils, that easily turn funk into fragrant, and get rid of bacteria naturally.
PolishLOVE ($11) makes strollers look brand spankin' new and WheelLOVE ($12) rids rims of squeaks, while FabricLOVE ($10) cleans spit-up, snacks and spills off of stroller upholstery and FreshLOVE ($11) keeps the whole buggy smelling sweet and clean.
Moms-to-be, or their BFF's, can buy items à la carte or the all-in-one kit ($50). One way or another, BuggyLOVE makes going from grime to glam simple.
Moms & Babies Rating: Spread the LOVE at your next baby shower with this unique gift.
— Dr. Mona Gohara