Review: Stokke Tripp Trapp High Chair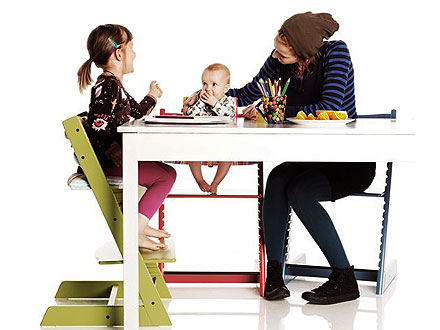 Courtesy Stokke
There's nothing better than sitting down to a family meal and having everyone — including baby — at the table. From its classic ergonomic design to the cool colors, the Stokke Tripp Trapp high chair ($250) brings your little one front and center from birth.
Want to learn more? Check out our review below:

Things We Like:
Easy to set up, the Tripp Trapp can be adjusted as your little one grows (though you do have to use a screwdriver) well past the toddler stage. There's even a Newborn Set that allows you to have a child as young as a day old at the table.
The harness is simple to use and we love the gorgeous cushion sets that are available. We can attest that they're a breeze to attach and remove and they wash up incredibly well. Stokke has also created a number of other smart accessories (including the Baby Set and Table Top ), which can make your tot's dining experience even better.
Even cooler? Unlike other baby products that can be eyesores in a well-designed space, the chic chair blends well into any décor. And, of course, we love that mini feet have somewhere to rest and aren't just left dangling uncomfortably as they are in so many other high chairs.
Things We Didn't Like:
This is one of those products we just love to pieces — literally, there isn't a thing not to like. The only limiting factor, though, is the cost. Not everyone can afford to splurge on this seat. However, if you consider the long-term investment value — the chair can actually be used as a desk chair by an adult — it may make the price a little more doable for some.
Also, while we absolutely love the newborn set, the baby set, the tray, the cushions, etc., they aren't necessities. Purchasing just the chair alone will still get you incredible mileage without all of the excess costs.
Moms & Babies Rating:
This is one of those baby gear items that pays for itself again and again. While expensive, the Tripp Trapp will last for years, taking a child from babyhood into adulthood. You can even hand it down from generation to generation. Plus, Stokke continues to improve the design, creating the ultimate high chair for discerning parents.
— Stephanie Slate