Sweet! Weelicious Recipes for Valentine's Day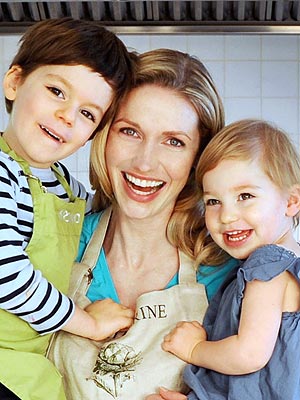 Courtesy Weelicious
Not sure how to celebrate Valentine's Day with your mini sweethearts?
Instead of loading them up with sugary treats, make them something sweet that's also good for them.
Thanks to Weelicious creator (and mom of two!) Catherine McCord, we have lots of healthy options to share.
From strawberry milk to bite-size dried cherry scones, you'll have no problem delighting their growing culinary senses this season with these easy-to-follow recipes.
Check them out below: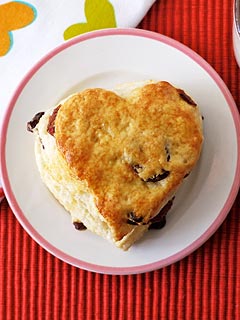 Courtesy Weelicious
Dried Cherry Scones (Makes 13 3-inch Heart Scones)
2½ Cups Flour
½ Cup Sugar
2½ Teaspoons Baking Powder
½ Teaspoon Salt
6 Tablespoons Unsalted Butter, Chilled and Chopped
¾ Cup Whole Milk
½ Cup Dried Cherries
1 Egg, Beaten, or 1 Tablespoon Heavy Cream*
1. Preheat oven to 400 degrees.
2. Whisk together first four ingredients in a large bowl.
3. Add the butter to the flour mixture and mix with your fingertips, pastry blender, or two knives to form a coarse meal.
4. Add the milk and cherries and mix gently until just incorporated (the dough may look a bit dry, but allow it sit for a few minutes and the flour will soak up all the milk)
6. Place dough on a lightly floured surface and gently press to 1 inch thick circle.
7. Using a heart-shaped cookie cutter, cut out scones.
8. Place scones on a parchment lined baking sheet.
9. Brush hearts with beaten egg or heavy cream if desired (this will give the scones a golden crust).
10. Bake in oven for 25 minutes.
11. Move immediately to a wire cooling rack and serve.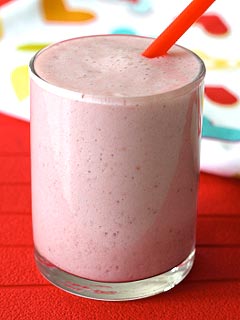 Courtesy Weelicious
Strawberry Milk (Serves 2)
1 Cup Milk
¾ Cup Fresh or Frozen Strawberries, defrosted
1 Tbsp Agave Nectar or Sugar
1. Place the ingredients in a blender and puree until smooth.
2. Serve.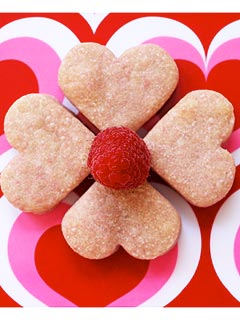 Courtesy Weelicious
Raspberry Shortbread Hearts (Makes 36 1½ inch cookies)
1 Cup Unsalted Butter, softened
½ Cup Powdered Sugar
¼ Cup Raspberry Juice*
2 Cups All Purpose Flour
¼ Tsp Salt
1. Preheat oven to 350° F.
2. Place the butter and sugar in the bowl of a standing mixer (or use a hand mixer) and cream together for 3 minutes.
3. Add in the raspberry juice.
4. In a separate bowl whisk together flour and salt.
5. Add the flour into the butter mixture until just incorporated.
6. Place the dough on a lightly floured surface and roll until ½ inch thick.
7. Using a 1½ inch heart shaped cookie cutter, cut out cookies.
8. Transfer hearts to cookie sheet lined with a Silpat or parchment paper.
9. Bake 20-22 minutes.
10. Cookies should be firm but still soft.
11. Cool and serve.
* Defrost 2/3 cup frozen raspberries and press them through a sieve into a bowl reserving only the raspberry juice for the recipe.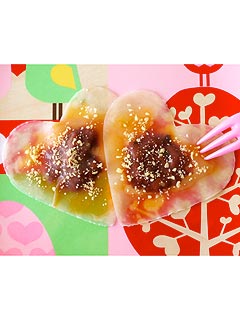 Courtesy Weelicious
Ravioli Pesto Hearts Serves 4-5
1 12-ounce Package Wonton Wrappers
1 Recipe Weelicious Sun Dried Tomato & Basil Pesto
2 Tbsp Water
Parmesan Cheese, for sprinkling
1. Using a 3-inch heart-shaped cookie cutter, cut the wonton wrappers into hearts.
2. Place 1 tsp Pesto in the center of one wonton heart.
3. Dip finger in water and rub around edges of heart.
4. Top with a dry wonton heart and gently press the edges to seal. If the wonton wrappers are not sticking just rub more water on the outside to help adhere.
5. Bring a large saucepan of salted water to a boil.
6. Gently place several hearts in the water and cook for 2 – 3 minutes.
7. Remove from water with a slotted spoon and place on a plate.
7. Sprinkle with parmesan cheese and serve immediately.
Sun Dried Tomato & Basil Pesto (Makes 1½ Cups Pesto)
1 8.5 oz Jar Sun Dried Tomatoes
1 Cup Basil, packed 1 Small Garlic Clove
½ Cup Parmesan Cheese, grated
½ Tsp Salt
1. Place all the ingredients in a food processor and blend until smooth (if the pesto is too thick, add additional olive oil).
2. Serve.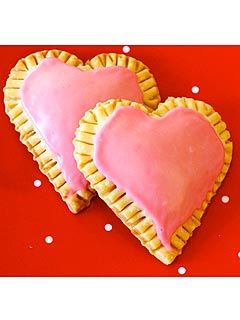 Courtesy Weelicious
Raspberry Cream Cheese Heart Tarts (Makes 10-11 Heart Tarts)
½ Cup Raspberries
¼ Cup Whipped Cream Cheese
1 Tbsp Honey
1 Double Pie Crust Recipe or 1 14 oz Pre-Made Pie Crust*
Water
1½ Cups Powdered Sugar
10 Raspberries for Icing or 2 Tbsp Juiced Raspberries
1 Tbsp Milk or Water
1. Preheat oven to 400 degrees.
2. Place the raspberries, cream cheese and honey in a bowl. Using the back of a fork, mash the raspberries with the cream cheese, leaving some pieces of raspberry intact.
3. Roll the pie crust ¼ inch thick and using a heart shaped cookie cutter (my heart cookie cutter is about the size of my fist), cut out hearts (or, if you are using packaged pie crust just unroll and cut out hearts).
4. Place one heart on a lightly floured work surface and place 2 tsp of the cream cheese mixture in the very center, leaving a ¼″ border around the cut-out.
5. Lightly dip your index finger into a cup of water and "brush" the border with the water (this will allow the two sides of the heart to adhere to one another).
6. Top with another heart and take the tines of a fork and gently press down along the edges to adhere (making sure the cream cheese mixture stays inside the heart pocket). With a toothpick, poke some holes in the top of the heart to remove any air pockets.**
7. Place on a parchment or Silpat lined baking sheet and bake for 20 minutes or until golden.
8. While the hearts are baking, take 10 raspberries, place in a strainer and press down with the back of a spoon to release raspberry juice into a bowl — should be about 2 tbsp of juice depending on how juicy the raspberries are.
9. Whisk in the milk and slowly pour in the powdered sugar to make icing.
10. When cool, take a spoon and spread the raspberry icing over the hearts.
11. Serve.
* You can use prepared Pie Crusts too such as Pillsbury or your favorite brand
** To Freeze: place hearts on a cookie sheet and freeze for one hour. Remove hearts and place in a ziploc bag, label and freeze up to 3 months. When ready follow steps 7-11, adding an extra 3 minutes to the baking time.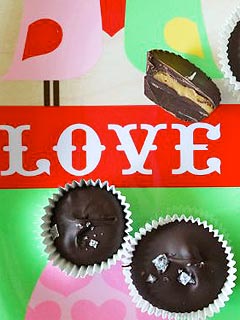 Courtesy Weelicious
Chocolate Peanut Butter Cups with Sea Salt (Makes 20 Chocolate Cups)
¾ Cup Smooth Peanut Butter
¼ Cup Powdered Sugar
1 (11.5 oz. Bag Dark Chocolate Chips)- I actually think it's10 oz)
1 Tbsp Fleur de Sel
1. Place the chocolate chips in a microwave safe bowl and melt for 90 seconds stirring halfway through until smooth.
2. Place 1 heaping tsp of the chocolate into paper liners in a mini muffin tin and refrigerate for at least 10 minutes.
3. Meanwhile, roll 1 tsp of the peanut butter mixture into balls and then flatten into disks and then place on top of the refrigerated chocolate mixture.
4. Top with remaining melted chocolate, a few flakes of fleur de sel and refrigerate until set.
5. Peel the papers off and eat.*
* You can serve the chocolate peanut butter sea salt cups refrigerated or at room temperature.