Hank Baskett: Wife Kendra Is a 'Super Mom'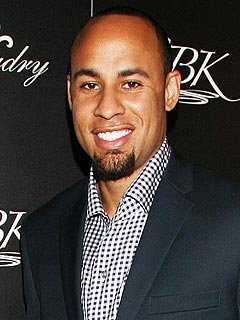 Jonathan Leibson/FilmMagic
While he's had plenty of practice on reality TV, Hank Baskett was nervous about making the jump to acting — until he learned his first role would involve a subject close to his heart.
"When I saw the script, I definitely thought this is going to play into my natural life," he tells PEOPLE of playing a father and husband in the web series Super Moms, about a group of women whose superpowers help them juggle their parental responsibilities.
"To get that as your first opportunity to act, it was like training wheels."
And lucky for Baskett, 29, he has the perfect person at home to run lines with: Kendra costar and wife, Kendra Wilkinson.

"Oh my goodness, no casting director can hold a candle to her when it comes to being critical," he says. "Whenever I have an audition or as with Super Moms, the script, she comes home and makes me practice. I say one word, and she's like, 'No, do it again.'"
But despite her candid input, having his wife on board only strengthened Baskett's commitment to the project, in part because he recognized Wilkinson and even his own mother in the work.
"I'm like the biggest mama's boy you'll ever meet," he says. "I think this is a message to all moms out there, from the director and the producer and everybody behind this, saying, 'Thank you. We know what you do, we know that you work all day and then you still know how to take care of the family.' It's just saying moms are secretly superheroes because of all they go through."
And when it comes to the mother of his own son, 2-year-old Hank IV, Baskett is equally effusive in his praise.
"I believe she does go above and beyond when it comes to being a mom because she doesn't want to be known as that quote-unquote celebrity that just passes her kid off," he says. "Last night, I shot a little video of her. At the end of a long day — she filmed some stuff yesterday — she was sitting in front of an easel where we do letters and shapes and numbers and she was teaching him stuff. That's just the way she is."
"She wants to be hands-on, every part," he continues.
– Kiran Hefa