Fab Sale Round-Up: Gilt Groupe, Lil' Swanky and More!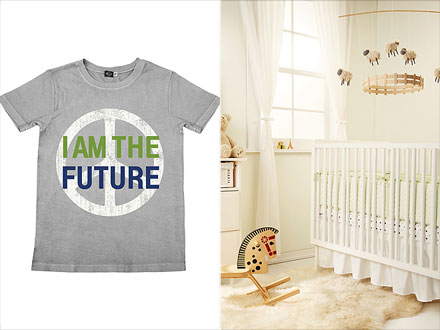 Courtesy Gilt Groupe
Next week, Gilt Groupe is hosting loads a few drool-worthy sales worth checking out. You'll find loads of chic home décor, toys, gear, footwear and clothing from Safavieh (2/6), Ravensburger (2/7), Ergobaby (2/8) NUKA Maternity (2/8), Shiren (2/8), Hank Player (2/8), Samantha's Charms (2/9), Frida (2/9), Tai Jewelry (2/9) and more.
Our picks: Hank Player I Am the Future tee (now $18, originally $25) and Little Gilt Minky crib comforter with ruffle (now $59), above.
On Feb. 7, Gilt Baby and Kids is proud to announce the launch of their very own label Little Gilt, which will feature everything from super soft crib sheets and blankets to stylish mini duds. To introduce the collection, they are offering cozy bedding made from fine fabrics.
You'll also want to check out their adorable Valentine's Day shop, which is loaded with sweet jewelry, apparel, décor, etc. for the whole family.
Not a member of Gilt? Use our exclusive link to sign up. You can also shop their new facebook shop.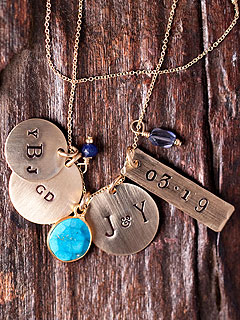 Courtesy 3 Sisters
3 Sisters: Treat yourself to some pretty accessories at this chic e-boutique. They're offering 20 percent off when you enter code: lovebug at checkout.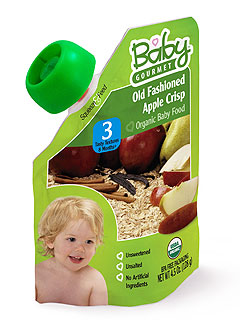 Courtesy Baby Gourmet
Baby Gourmet: Time to stock up on this company's yummy organic baby food. Right now, they're 35 percent off at Amazon.com.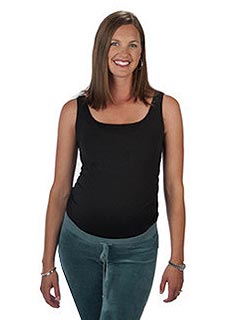 Courtesy Bashful Bump
Bashful Bump: Moms-to-be can now stock up on this company's comfy maternity bodysuits. They're offering Moms & Babies readers an exclusive 20 percent off discount. Just enter code: PEOPLE2012 at checkout.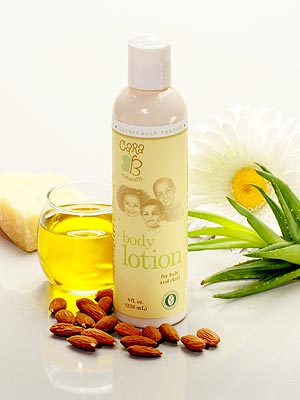 Courtesy Cara b Naturally
Cara B Naturally: On Jan. 29, you'll be able to find this affordable and sweet-smelling baby body care collection at Target.
And for a limited time, the products will retail at a promotional price. Find stores that carry the line in your area at target.com.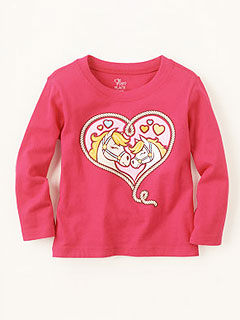 Courtesy Children's Place
Children's Place: Valentine's Day is just around the corner, and I'm sure everyone will be dressing up their little ones in something sweet on February 14th! To share the love, The Children's Place is hosting a gift card giveaway contest on their Facebook Fan Page.
Enter to win one of four gift cards valued at $250 each. After you submit your entry, create a personalized Valentine starring your little sweetheart by uploading a photo and writing a love note!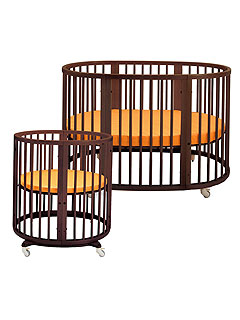 Courtesy Giggle
Giggle: We love everything this children's boutique stocks. Right now, they're offering a great deal. Until Feb. 29, when you buy the Stokke Sleepi Crib & Bassinet set, you'll receive the mattress set free.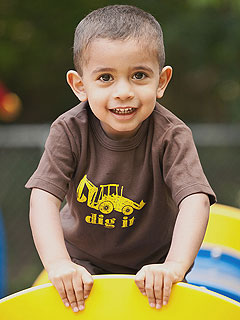 Courtesy K&J Sun Protective Clothing
K&J Sun Protective Clothing: Winter is here! But you still need to protect your tots from the sun's harmful UV rays. We love this company's adorable 100 percent cotton tees. Created by a board-certified dermatologist (and mom-of-two), they provide UPF 50+ sun-protection with no added chemicals.
Right now, they're offering 35 percent off when you enter code: back2school at checkout. With this kind of deal, we're snapping up the super cute Dig It T-shirt ($25) for our little guy.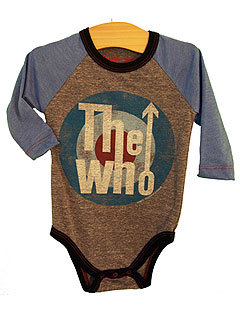 Courtesy Lil' Swanky
Lil' Swanky: This upscale children's e-boutique just debuted a cool, new brand — Ouch!. And to celebrate, they're offering 20 percent off all sale items including this adorable Rowdy Sprout The Who Onesie ($22.40 with discount). Just enter code: SWANKY at checkout.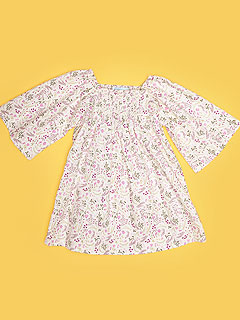 Courtesy Little Rue
Little Rue: Rue La La's brand new kids department is loaded with fun goodies for your tots. Check out what's coming up next week: I have sorted these by dates because Little Rue now runs on Tuesday and Thursday nights.
2/7 — Elephantito, Absorba and Marc by Marc Swim, 2/9 — Barn Organics, Country Framed and Malibu Sugar
They're also offering a great deal on shipping, The Rue 30. Each member pays an initial shipping charge of $9.95 and then for the next 30 day period, any items purchased on ruelala.com, no matter the brand or volume, will be shipped via standard shipping for free, subject to certain restrictions.
Not a member? Make sure to sign up at ruelala.com/peoplemagazine.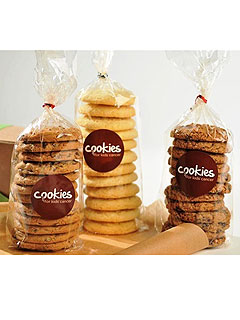 Courtesy The Mini Social
The Mini Social: Check out what's coming up in this e-sample site: 2/6 — American Apparel, Joah Love, Tom & Drew and Me Giant, 2/7 — Fit 2 Be Mom, Azul, Blume and Little Ruler, 2/8 — ESP No 1, Sweet Cottons and Pixel Moda, 2/9 — Punkster, Modern Pop Designs, Lima Bean and Clover NYC, 2/10 — Mini Rotation, Blind Mice Socks and Phoenix & Nola, 2/11 — Egg Baby by Susan Lazar
Until Feb. 14, log on to their site daily for a chance to win one prize daily from brands including Wall Candy Arts, Melissa & Doug, Hopscotch Kids, Egg Baby, etc.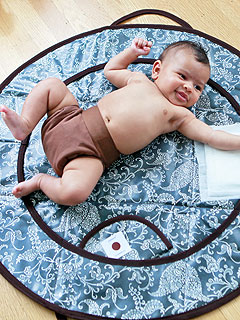 Courtesy of Patemm Pad
Patemm Pad: This company's award-winning changing pads are a mommy must-have. Want one? Right now, they're offering our readers an exclusive Friends, Family and Fans discount. When you enter code: PEOPLEMAG, you'll receive 28 percent off your order.
For a sneak peek of their Spring Collection and information on deals, sales and exclusive prints, make sure to Like them on Facebook at facebook.com/patemmpad.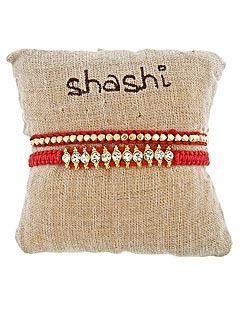 Courtesy Sashi
Sashi: Valentine's Day is coming up so it's the perfect time to treat yourself (or a friend!) to some new jewelry. To celebrate the launch of their new e-boutique, Sashi is offering an exclusive 20 percent off discount. Just enter code: Valentine at checkout. For some holiday themed picks, check out their beautiful red bracelets.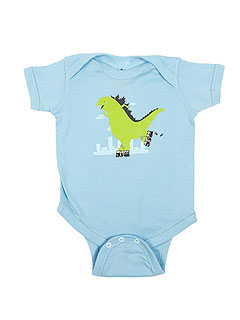 Courtesy Threadless
Threadless: We love this company's quirky tees, onesies, hoodies and more. Until Jan. 25, they're selling some of their cutest style at $9.50 and under. Our pick: The Roller Skating onesie ($9.50), left.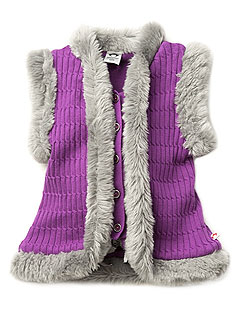 Courtesy West Village Kids
West Village Kids: They're having a huge winter sale, with styles up to 80 percent off. Plus, you get an additional 20 percent off of sale items when you enter code: LOVE2012. Added bonus: Free shipping when you spend $100 or over.