Review: Roux Maison's Eco-Friendly Laundry Detergent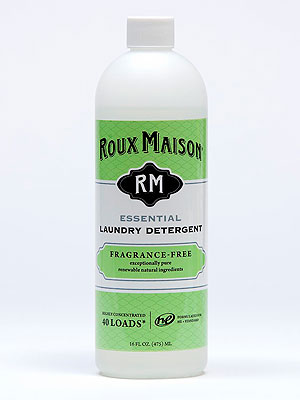 Courtesy Roux Maison
Is it possible to make hamper-time hip? We think so, especially after trying Roux Maison — a new, eco-friendly laundry detergent and stain remover line.
Divided into four different textile categories: Essential (all-purpose), Sport (lycra, spandex and other high performance fabrics), Delicate (lingerie or hosiery) and Swimwear, the detergents are highly concentrated and hypoallergenic so a little goes a long way and it's perfect for your little ones' sensitive skin.
Plus it's loaded with yummy scents such as ambrosia and sweet tea that reflect the brand's southern roots, so your clothes smell naturally fresh.

And Roux definitely deserves its environmentally-friendly rep. Not only are the bottles BPA-free, but the formulas are vegan, biodegradable, and free of sulfates, formaldehyde, pthalates, parabens, phosphates, optical brighteners, artificial fragrances and artificial dyes.
Moms-to-be should feel especially comforted that no chemical residue is left behind on fabrics after cleaning is complete.
Overall Verdict: Give this brand a try and save the world one laundry load at time.
(*Those with any pre-existing skin conditions such as eczema should consult with a health care provider before using any commercial product.)
— Dr. Mona Gohara