Jamie Lynn Spears: I'm Afraid of Not Being a Good Mom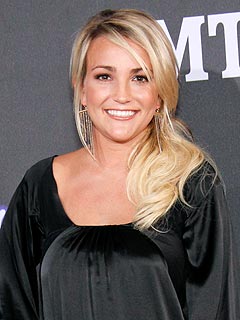 Ed Rode/Filmmagic
Jamie Lynn Spears may be kicking her music career into high gear, but says her number one priority is still her daughter Maddie Briann, 3½.
"These days, the only thing I'm afraid of is not being a good mom," Spears, 20, tells Glamour in their March issue. "As long as Maddie is healthy and she loves me, the rest doesn't matter."
She's been taking performance advice from her older sister, Britney, and says motherhood has helped to bridge the 10-year age gap between them.
"Maddie loves her Aunt Britney's songs," according to the younger Spears, who adds that her little girl often has playdates with cousins Preston and Jayden.
"She loves dancing and singing and all of that. I definitely think music is in her genes."

Spears said she's using her own music to be honest about her pregnancy and how she feels about being a young single mother.
"That's been the coolest thing — realizing that it's okay to just be myself and really tell my story," she tells the magazine. "I expect the scrutiny. The last time anyone heard anything of me, I was 16 and pregnant. All I can do is be my best — there will always be people who will never like me."
As a teen, Spears says, she was embarrassed to see a doctor and ask for birth control — even more so because of her position as the star of Nickelodeon show Zoey 101.
"I was 16. I'd had one boyfriend. It doesn't make it perfect or all right. But I was judged for something that probably most everyone does," she notes. "I was young. I was in love. I was like every other teenager, except I had this last name. And I made a decision that is forever my decision."
But the backlash that Spears experienced when she announced that she was expecting still stings.
"I had to make a decision that I could sleep with every night," she explains. "I did feel responsible for the young girls and the mothers who I probably confused and let down. I apologize for that. But I wasn't trying to glamorize teen pregnancy. I hated when [the tabloids] said that. Everybody is dealt a hand of cards. It was my choice to play them the way I played them. But the hateful comments hurt."
Spears soon found herself under the watchful eye of the media and moved from Los Angeles back to her home state of Louisiana. In June 2008, at age 17, she delivered her daughter.
"I just wanted to get away from it as much as I could … move to a town in the middle of nowhere and just raise my child. All I could be was a good mother. If anybody had anything to say after that, there was nothing I could do," recalls Spears. "I was very OCD about Maddie at first. I didn't want anybody to watch her or touch her. I wanted to do it all myself. I breastfed for almost a year; I couldn't leave her at all."
Though Spears and fiancé Casey Aldridge split in 2010, they are both fully committed to raising their daughter.
"I do wonder about how [Maddie] is going to feel about the fact that I was young when I had her and that her father and I aren't together anymore," she admits. "It's sad because my and Casey's love had to turn into an adult relationship so quickly. There's a slim chance of two young people making it through high school and all that drama, but making it as parents?"
"We tried," she says of her relationship with Aldridge, who takes care of their daughter one weekend a month. "We really wanted to do it right. We loved each other. I will love him as Maddie's father until the day I die."
As for dating? Spears says that's not her number-one concern right now.
"I've been on dates here and there, going to dinner or a movie, but nothing further than that. I'm a mother first," she explains. "I have a little girl, and until I'm serious about someone, he's not going to be around her. … The one thing that does get me excited is one day having that relationship. I look forward to that — I really do."
— Liz Raftery