J.R. Martinez Won't Name His Daughter 'Salami' or 'Apple Cider'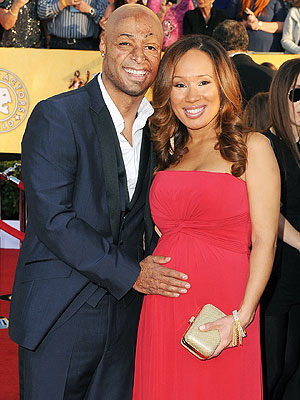 Steve Granitz/WireImage
J.R. Martinez and Diana Gonzalez-Jones, who are expecting their first child — a girl! — in May, have narrowed the names to two. Expect something special – but nothing absurd.
"We won't name her Apple Cider or Salami," the Dancing with the Stars champ, 28, vowed to PEOPLE at Sunday's Screen Actors Guild Awards.
"It won't be our favorite dish or our favorite getaway or favorite car or show."
So, what's left after that?
"It will be something really close and personal to us. It feels like we're giving something to her that is very special," he says.

Martinez and his girlfriend want to wait to meet their newborn before deciding officially.
"She'll probably come out and we'll be like, 'That's the name,'" Martinez says. "We have narrowed it down to two names and we agree on it, which is good. I hear that traditionally, when it comes to the name picking, that's when the disagreements occur. But I think it will be a nice flow."
Gonzalez-Jones says she's feeling good, and that the reality of becoming a mother is starting to set in.
"I'm six months now," she says. "The first five months, I wasn't showing, she wasn't really moving too much. Now, she's kicking all the time. She's like, 'I'm here, I'm coming.' And it's like, oh yeah, it's coming soon!"
The couple, who are preparing to move from Studio City to Sherman Oaks, Calif., are also thinking about themes for the nursery.
"We don't want to douse her in pink," Martinez says. "That is the cool thing we agree on. We want, like, light pink, but not all pink."
— Jessica Herndon and Tim Nudd with reporting by Jennifer Garcia