Pregnant Molly Sims Officially Debuts Baby Belly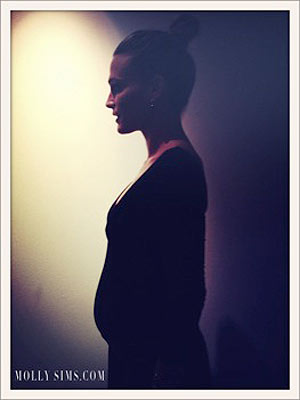 Courtesy Molly Sims
There it is!
Two weeks after confirming she's expecting, Molly Sims officially debuts her belly in the opening shot of her pregnancy photo gallery.
"I thought it would be fun to document my baby bump on the site each month, starting today," the model, 38, writes on MollySims.com.
"That way all of you can see how far along I am, and I'll have all of the pictures to look back on once the little bun in the oven arrives."
Due at the end of June with her "honeymoon baby" — she wed Scott Stuber in September — the Project Accessory host is 18 weeks along and trying to soak up each new experience — even the nausea!

"I've already been through the morning sickness (every morning from 4 to 6 a.m. for seven weeks — it was the worst), the strange cravings (I'm looking at you, Kraft Mac Easy), and daily episodes of what I call, 'Pregnancy brain,'" Sims blogged earlier this month.
"But, believe it or not, I'm cherishing every moment."
In addition to posting monthly photo updates of her growing bump on her website, Sims will also blog about her pregnancy, including more on her newfound cravings and transformation from model to mom.
— Anya Leon