Julianne Moore Debuts Valentine's Day Cards for Charity
This Valentine's Day, Julianne Moore is doing her part to spread the love. The actress — and author! — has enlisted some of her fellow children's book writers and illustrators (Olivia, anyone?) to help create a line of 30 limited-edition Valentine's Day cards that even the tiniest sweethearts are sure to love.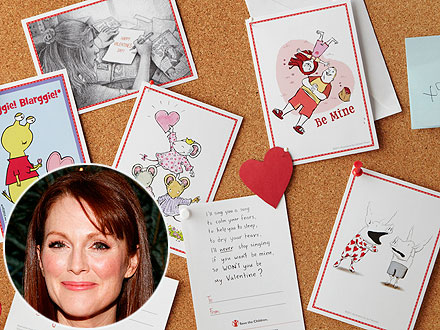 Inset:Andy Kropa/Getty

Featuring adorable drawings and cute poems, the set of cards ($25) can be purchased on OpenSky, an online shopping site where celebs share their favorite finds with their fans.
"They're a great choice for your kids to give to their school mates or anyone… because they represent the love of reading," she says. "I personally chose each author and illustrator of the cards and I think you'll love them."
But you're not just buying kid-friendly notecards for you and your family to pass out on Feb. 14, you'll be doing much more: All proceeds from the cards will be donated to Save the Children, a charity group that helps kids living in poverty all across the country.
Added bonus: Also available are a pack of three signed books from Moore's Freckleface Strawberry series, with profits also being donated to Save the Children.
— Anya Leon