4 Sweet Ways to Celebrate Valentine's Day with Your Kids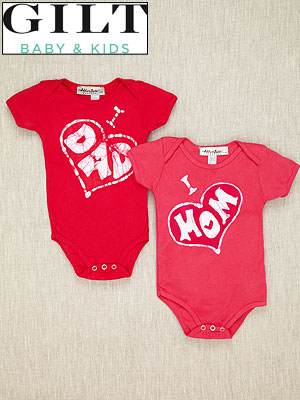 Courtesy Gilt Kids
Now that your Valentine's Day dinner plans are set with the hubby, it's time to figure out how to help the little ones celebrate the holiday.
For some cute ideas, we tapped Gilt Kids' general manager, Rachel Jarrett, and senior buyer, Melissa Keswin, for their fun tips.
Check them out below:
Say it with flowers. Buy a half dozen roses and have your tots give one to each teacher. Not only is it nice touch, but it will surely brighten up their day.
Have a babysitter the kids love? Take your tots to the florist and let them help pick out a pretty arrangement to show their appreciation.

Make them a secret helper. Want to surprise your spouse or partner on the big day? Let your child hand deliver the card/present or help sneak it onto the nightstand before they wake up.
Give them a sweet surprise. Make or buy your kid a valentine to remind them how much you love them. Even cooler? Put it in their lunchbox or backpack so they'll discover it at school.
Show their bellies some love. Find a yummy recipe for cookies, brownies, etc. that you've never tried before and whip it up. Put a few of your homemade goodies on a fun plate and serve it to your little guy or girl with a big glass of milk.
Looking for adorable gifts (like the fun onesies above!) that are guaranteed to make your kids feel special? Make sure to check out Gilt Kid's Valentine's Day Shop. And, use our exclusive link to sign up if you're not yet a member.