Katherine Heigl: Adoption Was Always Our Family Plan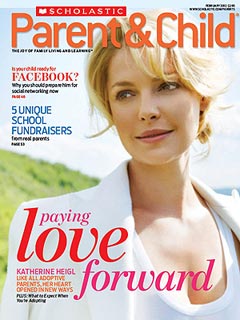 Courtesy Scholastic Parent & Child
Even as a little girl, Katherine Heigl already had her life all planned out: Get married, have children — and adopt.
And that is exactly what the actress did. After meeting and marrying singer Josh Kelley in 2007, the couple adopted their first child, daughter Naleigh, now 3.
"Josh and I started talking about it before we were even engaged," Heigl, 33, tells Scholastic Parent & Child's February issue.
"We have talked about having biological children as well, but we decided to adopt first. I'd like to adopt again."
While Kelley was completely supportive, Heigl admits it takes everyone time to adjust to the idea of adoption.

"Anyone who doesn't have experience with adoption wonders, 'Does love for a child come through DNA?' I knew it didn't," the One for the Money star shares.
"They're yours. You love them the moment they're put into your arms. Josh had to learn that, but he was so gracious and accepting."
In the end, reveals Heigl, it was Kelley who immediately won over their daughter's heart.
"[Naleigh] felt really comfortable with Josh and they bonded quickly," she says. "It was harder for me. It was a struggle for me because all I wanted to do was bond with her. But it takes time for a child to trust this new situation and to trust you."
Encouraging fellow adopting parents to not "be discouraged," Heigl finally made peace with her family dynamics: while Kelley is "Disneyland Dad," the first-time mom is content with her nurturing role.
"He'll get on the floor and roll around and make her laugh. That wasn't really me. So I felt like, 'Oh gosh, I'm not the kind of parent she prefers,'" Heigl recalls.
"Then I realized — I'm the cuddler. I'm the one she comes to if she's hurt. And I have a ritual for putting her to bed. She has one blankie that goes over her, one that goes by her face, and one that she holds. It's our little thing."
Raised in a family that values "character, integrity, and morality," Heigl and Kelley's main parenting priority is ensuring they all count their blessings — despite the couple's success in the spotlight.
"We feel strongly about these things because of the industries we're in," she explains. "We'll have to work a little bit harder to keep Naleigh grounded and to make sure she understands how blessed she is — how blessed we all are."
— Anya Leon