Citrus Lane: A Cool Monthly Gift Service for New & Expecting Moms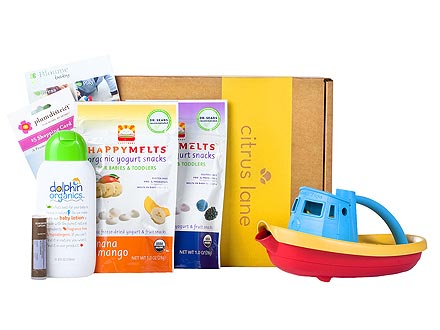 Courtesy Citrus Lane
Love receiving gifts? What if you could get a package of cool and fun baby goods every month? Well, thanks to Citrus Lane, you can. Created by two moms, the company sends out well-edited boxes of baby and mommy products to members every few weeks. And each set is tailored to the season and your baby's age.
This month, they've teamed up with Healthy Child Healthy World for their all-organic January package ($30, above). It includes yummy yogurt snacks from HappyBaby, Dolphin Organics body lotion and a tugboat made of recycled materials.

To join, you can either pay per box or sign up for a 3-month ($75), 6-month ($125) or annual ($250) subscription. You can also gift it to a friend. For more information on how this nifty service works, go to citruslane.com.