BumpWatch: Alyson Hannigan's Sunny Sunday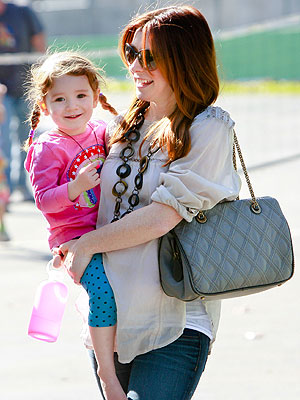 Castro/Walker/Beverly News
Pigtailed princess!
Alyson Hannigan, who's expecting her second child this spring, was spotted giving daughter Satyana Marie a lift Sunday in Santa Monica, Calif.
The 2½-year-old accompanied her actress mom and dad Alexis Denisof as the trio visited the farmer's market and made a stop at the playground.
"Yes, I am pregnant! This time it is NOT a food baby. We are beyond happy!" the How I Met Your Mother star, 37, Tweeted.
RELATED: BumpWatch: Alyson Hannigan and Satyana Roll with It