Little Green: Eco- and (Kid-!) Friendly Body Care You'll Love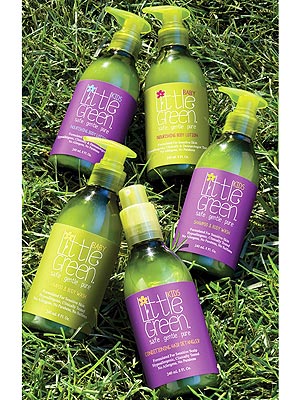 Courtesy Little Green
After gaining 40 years of beauty biz experience, spa-preneur (and grandpop to eight) Carmen DePasquale decided to delve into the world of baby skin care after realizing there weren't a lot of safe, gentle kid-friendly products on the market.
Split up into two categories (kids and baby), the sweet-smelling collection — Little Green  ($6 – $17) — is dermatologist tested, hypoallergenic and free of both parabens and sulfates.
Moms who are masters at multitasking will love bathing their little one with the all-in-one tearless Shampoo & Body Wash, which is infused with vitamin B for extra nourishment.

And, the Nourishing Body Lotion is a nice mix of aloe, shea butter, oat extract, olive oil and vitamin E that helps lock in moisture while preventing irritation.
You'll get the best results by patting (not scrubbing) your tot dry and applying the lotion within minutes of bathing so that none of that much-needed moisture escapes into the air.
We're also loving the fact that the Conditioning Hair Detangler can be used in all different types of hair. It's especially handy after a long day at the pool or beach!
Overall Verdict: Add this brand to your registry.
(Note: Parents of children with a history of eczema should consult with a health care provider before applying any commercial product to their skin.)
— Dr. Mona Gohara