Spotted: Jennifer Garner and Seraphina – Lip Locked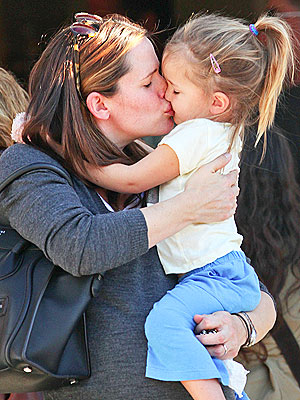 Dharma/INF
Sealed with a kiss!
Mom-to-be Jennifer Garner plants a sweet smooch on daughter Seraphina Rose Elizabeth — who turns 3 today! — while grabbing breakfast with her little one in Santa Monica, Calif. on Wednesday.
Expecting her third child with husband Ben Affleck this winter — elder daughter Violet Anne is 6 — the actress has been craving junk food.
"My kids had never seen Doritos before. They would say, 'Mom, where did you get that orange chip? I really want that,'" Garner, 39, tells InStyle.
RELATED: Jennifer Garner: I 'Would Do Anything' for Ben Affleck