Review: Simmons Tour Buggy Stroller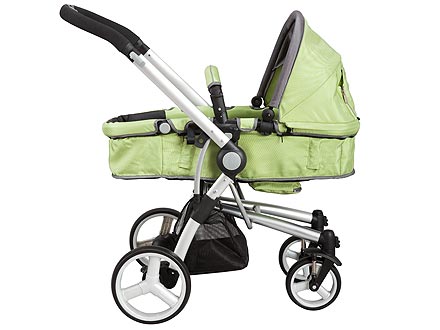 Courtesy Simmons
What folds up, also folds down — way down. At least, that's the case with the Simmons Tour stroller ($270). Using lightweight aluminum Simmons seat technology with memory foam, it works both as an upright and as a buggy.
Talk about versatile! For more on the stroller's features, check out our review below.

Things We Like:
We love that the multi-position reclining seat can face forward, backward or lay all the way flat. Plus, not only does the comfy seating detach with ease, but once it's removed, the base compactly folds down making it effortless to store.
With a peek-a-boo window, the canopy keeps baby covered and the padded 5-point safety harness provides wiggle-proof safety.
Things We Didn't Like:
Equipped with only a small storage basket underneath, there's not much space to fit a lot — which can be hard if you're going shopping or running lots of errands. Also, the push bar could use another swivel option so it could adjust into a more comfortable position. And a cup holder would have definitely come in handy.
Moms & Babies Rating:
Sporting shock absorbing wheels and multiple seating positions, this is one convenient and cozy ride.
— Chelsea P. Gladden