Mini Must-Have: Louis Bullock's Cozy Sweater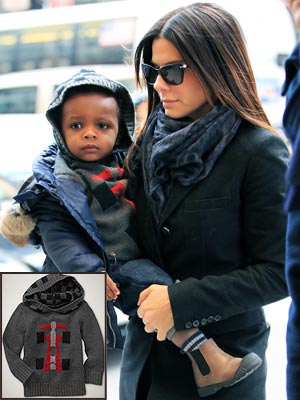 Jackson Lee/Splash News Online
No photo finish needed here. When it comes to stylish winter toppers, Louis Bullock certainly takes the lead.
On Dec. 12, we spotted the bundled-up 2-year-old in N.Y.C. with mom Sandra Bullock.
And while we loved his sturdy ankle boots and fur-trimmed parka, it was the tyke's cozy knit hoodie that made his outfit pop.
Finally, we tracked it down. He's wearing babyGap's Race Car Sweater ($35), but it's no longer available.
Want a similar look? We think Janie and Jack's Classic Car Sweater ($49) is just as fun.
— Anya Leon