How to Prepare Your Child for the Doctor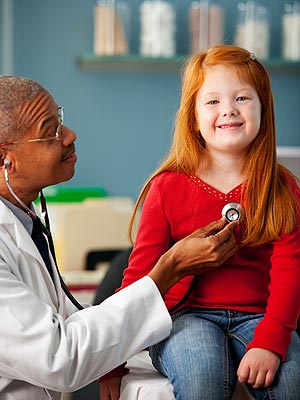 Sean Locke/The Agency Collection/Getty
A child's visit to the doctor can either be a pleasant or unpleasant experience. And a lot of that depends on how safe and comfortable you make your tot feel.
To help create an enjoyable as possible experience, board-certified pediatrician and MD Moms co-founder Dr. JJ Levenstein (below) has shared a few essential tips, which are specifically designed for new parents.
Check them out below:
Be prepared. Call and verify your appointment time, which should be scheduled when your baby is at his or her best in the morning or after a nap.
With children of any age, unexpected delays may occur while getting ready to leave for the visit so to prevent rushing, leave 15 minutes ahead of schedule.

Also, make sure to remember your baby's immunization records, old medical records and your insurance and contact information.
Keep them comfortable. Whether you're breastfeeding or bottle-feeding, be ready to feed your baby during any uncomfortable situations. Also, your baby will most likely need one or two diaper changes during one visit, so please bring your own diapers, diaper cream, wipes and a change of clothing. (Pediatricians rely on parents to stock their own supplies).
If your baby will receive a vaccination during the visit, hold them close to ease the pain. A pacifier dipped in a sugar solution can also release endorphins and assist in pain relief
Courtesy MD Moms
Keep germs at bay. If your baby is healthy, ask the receptionist if there is another option to waiting in the office with a room of ill children because babies are especially vulnerable to infection.
Also, bring your own soft, non-irritating baby wipes to maintain an all-over clean feeling throughout their visit.
Stick with your routine. In addition to planning your visit during your child's best time of day, feeding your baby a snack before the appointment will also decrease the chances of crankiness. You can also bring along a favorite blanket or quiet, age-appropriate toy.