BumpWatch: Jessica Simpson's Lunch Break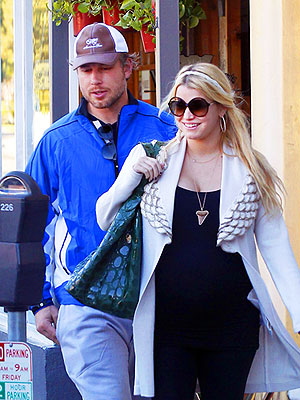 Fame
Table for two, please!
A beaming Jessica Simpson takes fiancé Eric Johnson — and her baby bump! — to lunch Tuesday in Brentwood, Calif.
The reality that the couple will welcome their first child this spring — she thinks it's a girl while he has his bets on a boy — recently hit the singer/designer full force.
"I felt [the baby] move the other day for the first time and I had big crocodile tears," Simpson, 31, told Rachael Ray.
"It was the coolest thing ever. It did a flip or something. I was like, 'There it went. It's there, it's really there."
RELATED: BumpWatch: Jessica Simpson and Bronx Hold On