Julianna Margulies: My Son Is Scared of Santa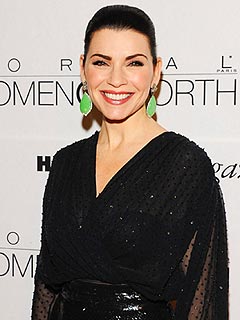 Eugene Gologursky/WireImage
Julianna Margulies says her son Kieran Lindsay, 3½, has something in common with nearly every other starry-eyed toddler during the holiday season: a fear of Santa.
And that's exactly why he hasn't visited the jolly man in red this year — yet.
"I tried last year at our Christmas party and he wouldn't get on Santa's lap and hid behind me," The Good Wife star, 45, told PEOPLE at the L'Oreal Paris Women of Worth Awards on Dec. 15 in New York City.
"This year I actually asked our production, 'Could you have Santa in the light?,' because they always had him in a dark corner and that scared my kid. But I think most kids are afraid of Santa, until they get to 6 or 7."

Margulies says what Kieran is not afraid to do — during the holidays or any time of year — is give back to others. The actress makes sure her son understands the importance of helping people not quite as fortunate as him, and makes the act of giving a mother-son bonding experience.
"Whenever he grows out of his clothes we bring them to Room to Grow, which is a foundation for underprivileged children in the city. It's a phenomenal organization," she shares.
"I always show him what we're going to bring — he grows out of everything so fast. We walk there together and he wants to see where it's going and he chooses books to give the children."
Why is Margulies so committed to teaching her son the importance of giving back? "He's living in a world I didn't grow up in — this sort of world of privilege in a way, because of what I do for a living," she explains.
"I want to make sure he understands that's not normal and I want him to remain grounded. For his birthdays we always say 'in lieu of gifts please give to this charity' because he doesn't need anything. And I want him to always know that giving is always a much bigger reward than getting."
— Kathy Ehrich Dowd