Hilary Duff (and Baby Boy) Ready for the Holidays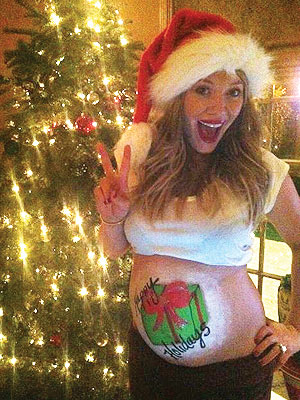 Courtesy Hilary Duff
The tree is decorated — and so is her baby bump!
In the spirit of the holiday season, Hilary Duff, who's expecting a baby boy in March with husband Mike Comrie, showed off her embellished belly on Twitter.
"Happy holidays from the three of us!" she Tweeted.
The artist behind the festive message? Her sister, Haylie Duff, who designed the green and red-painted present that says "Happy Holidays."
Earlier this week, the pregnant star, 24, brought home her sick Chihuahua from a Los Angeles animal hospital.
— Alison Schwartz