Review: Mustela's New Baby Skin Care Products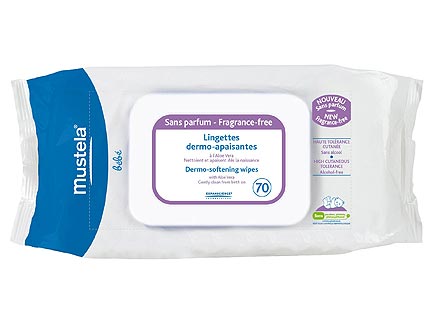 Courtesy Mustela
When it comes to baby skin care, it's hard to separate the fake-out's from the real finds — even for a mom and dermatologist like me. Recently, I had the chance to check out two of Mustela's latest products. And let's just say, the company's well-deserved rep as a go-to mommy and baby care brand is still intact.
Not only is the line infused with therapeutic naturals and lacks undesirable ingredients such as preservatives, parabens, phthalate and alcohol, but each product has been tested and approved by a dermatologist or pediatrician. Check out my reviews below:

Dermo-Soothing Wipes ($10.50) are sturdy, smooth cleansing cloths. They are ideal for freshening up, routine diaper changes and messy meals because of their uncomplicated chemistry. Hypoallergenic, alcohol and fragrance free, these wipes are also easy on sensitive baby spots. An extra benefit? Simple, added botanicals help to quell minor irritations.
Stelatria ($18.50) is a one of a kind baby cream which helps the skin rebound from those unavoidable little scrapes or bug bites. Powered by natural minerals that kick essential collagen into overdrive, Stelatria quickens the healing process and minimizes long lasting marks.
Because it is formulated to keep unwelcome microbes in check, Stelatria can also be applied to the bacteria-prone, rashy skin that results from overzealous thumb sucking and binky drool. This cream is most definitely a must-have find for baby skin binds.
Overall verdict? Some may think that these fabulous additions to the Mustela family are a bit pricey, but we think top notch is worth it for your precious tots.
(*For open wounds, or persistent skin rashes it is important to seek the guidance of a health care professional.)
— Dr. Mona Gohara