Willow Smith Teams Up with Target for Holiday Shopping Spree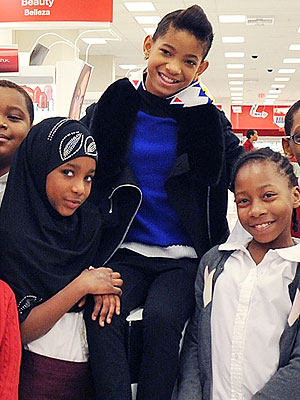 Slaven Vlasic/Getty
This year, the holidays came early for eight New York City kids and their families.
However their pile of presents weren't courtesy of a man in a red suit, but rather an 11-year-old girl with a desire to give back: Willow Smith.
Teaming up with Target for work with her Kids Helping Kids campaign, the "Fireball" singer treated a group of children — selected through nominations from The Boys and Girls Club — and their families to a holiday shopping spree in Harlem, New York.
"It's been awesome because Target is one of my favorite stores and it's just awesome to share that with the kids and be there for them," Willow told reporters.

Once the event ended and families headed home with their gifts, Willow did a little shopping of her own and picked out a new toy for herself. Her choice? An Easy Bake Oven.
But more than new toys, the mini pop diva is looking forward to another special treat this holiday season — a vacation with dad Will Smith, mom Jada Pinkett-Smith and brother Jaden.
"I'm going skiing with my family for some family time!" she shared.
— Anya Leon