Eric Church Introduces Son Boone McCoy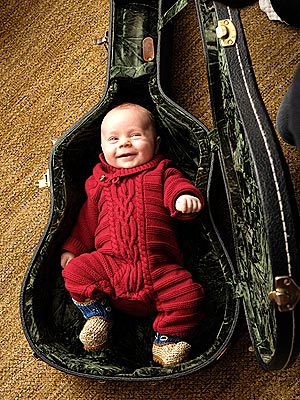 Courtesy Eric Church
Meet Boone McCoy Church!
Singer Eric Church and wife Katherine, who welcomed their first child on Oct. 3, are ready to show off their son.
Dressed in a festive, cozy red coverall — and cuddled in the country crooner's six-string guitar case — Church reveals the 10-week-old has already left a profound impact on the lives of his proud parents.
"Everyone always tells you what an awesome and unique experience being a parent is, but words can never do the feeling justice," the new dad, 34, says.
"The way our life changed in that 24-hour period alone after he was born — just by putting a little boy in the house — was awesome."

And while the family of three are still settling into their new life, the Grammy-nominated singer is excited for the future inspiration. "It will be interesting to see how this new chapter in our lives manifests itself musically," he shares.
"I've always made music that was representative of real life. Life doesn't get more real than having a newborn at home."
Fortunately, Church, who plans to celebrate the holidays in Nashville, will have plenty of time to spend with Katherine and baby Boone before he heads out on The Blood, Sweat, and Beers Tour in January.
— Anya Leon