Viola Davis: Motherhood Gives Me 'New Purpose'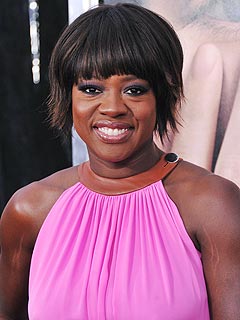 Stephen Lovekin/Getty
Since adopting daughter Genesis in October, first-time mom Viola Davis is reveling in every moment of her most important and life-changing role yet.
"Becoming a mother has opened up my whole life and given me a whole new purpose," Davis, 46, told PEOPLE at Thursday's premiere of her new film Extremely Loud and Incredibly Close in New York.
"I feel like a star at home only because she loves me so much. I mean, it's a red carpet everyday. It's wonderful!"
A shining star moment for The Help actress and her husband, actor Julian Tennon, is reading books to their 16-month-old little girl during bedtime.
"She loves Goodnight Moon," Davis says. "Every time we get to the part where the old lady who is sitting and whispering hush, she goes 'Shhh!' I just love it. It's something simple, but it's the most amazing thing to see."
The Golden Globe and SAG nominated actress is so well prepared in raising her daughter that she already found a future boyfriend for Genesis with Extremely Loud costar Sandra Bullock's son Louis, 23 months.
"Oh yeah, I'd absolutely love to set her up with Louis," she says with a laugh. "That kid is so cute. He's going to be a bruiser. But let's try to get a play date in first. If they are ever in the same place, we'll get them together."
— Paul Chi