No Baby Name Reveal for Robert Downey Jr.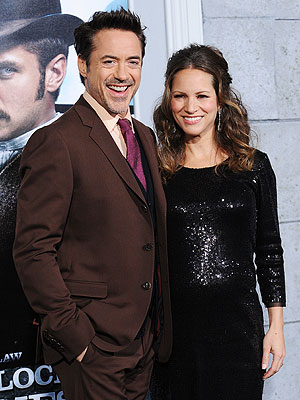 Jon Kopaloff/FilmMagic
Robert Downey Jr. may have spilled the beans on national television that he and wife Susan are expecting a baby boy, but the actor knows better than to reveal one private detail.
"If I told you the name, then [Susan] would lop off my head with a machete," Downey, 46, told reporters at the premiere of his latest film, Sherlock Holmes: A Game of Shadows.
(For now, the star has taken to affectionately calling his unborn child "Bubba," as he introduced his wife's baby bump to guests on the black carpet.)
After taping his appearance on The Tonight Show, Robert immediately confessed the slipup to his wife — and earned her forgiveness. Was she mad?

"No, not really," he says. "She's very sweet."
"I could never really stay mad at him, but I can tell you it genuinely wasn't something we planned to reveal," says Susan, displaying her baby bump in a black dress picked out by her husband for the premiere of their film, which she also produced.
As for the claims Robert's the one suffering most during the pregnancy: "Oh please!" says the mom-to-be, due in late February. "Who's the actor in the family?"
The couple, who shared frequent kisses and laughs as they fielded interview together at the premiere, met during production of the 2003 film Gothika, in which Robert starred. Since then, they've worked together on several projects, including both installments of the Sherlock Holmes series.
"We've been doing it for a lot of years," says Susan of their business relationship. "I'm really used to it. There's nothing strange about it. I just like seeing him. He's so talented."
— Jessica Wedemeyer