Angie Harmon: Teaching Awareness with a Trip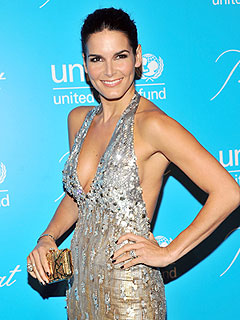 Stephen Lovekin/Getty Images
Life is pretty good when you're growing up with a television star mom and a former NFL pro dad.
But Angie Harmon wants to expose her three daughters to other ways of living, so this January the actress is packing up the whole family and heading to impoverished areas of India with UNICEF.
"I want to create an awareness in them from an early age," the Rizzoli & Isles star, 39, tells PEOPLE during UNICEF's Snowflake Ball on Nov. 29 in New York.
"It is, literally, to teach my children that not everyone has a home or running water or food."

And while her daughters — Finley Faith, 8, Avery Grace, 6½, and Emery Hope, 3 this month — may have trouble relating to the contrasting circumstances, Harmon is determined they at least gain a sense of compassion.
"They're sweet, sweet girls, and I don't expect them to understand poverty or the way some other children grow up," she says. "But I do expect them to start being aware. So we're taking them. I thought I'd hit it right at the heart."
As Harmon and husband Jason Sehorn plan the trip, they're also taking into consideration the maturity levels of their children.
"The 8-year-old is only going to do certain things that she can handle," Harmon explains. "The 6-year-old and the 2-year-old will do totally different things. But it is time. I want my children to understand at a young age that they are very, very blessed."
Choosing the North Carolina foothills over the Hollywood Hills makes it slightly easier to keep their girls grounded, admits Harmon, adding, teaching them is ultimately "a household thing."
— Asher Fogle