Robert Downey Jr.: We're Having a Boy!
It appears Robert Downey Jr. doesn't have an iron will when it comes to keeping a secret.
Despite telling Jay Leno on The Tonight Show Monday that "I can't say a word" and that he is "not permitted to discuss" the sex of the baby he's expecting in late February with wife Susan, the actor then blurted out that they're having a boy.
Downey, 46, immediately put his head in his hands in mock horror and said, "S—. I did it."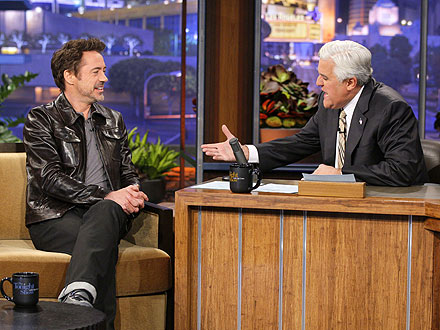 Paul Drinkwater/NBC

Continuing with his tongue-in-cheek interview, Downey Jr. told Leno he's been the one suffering through Susan's pregnancy, which the pair announced in August.
"I think actually it's been tougher on me," he joked. "Just the hormones and the moods stuff and the nausea, and the whole thing."
When asked if he planned to be an involved father with his son, he said, "I suspect I will be."
He then donned a prosthetic breastfeeding device Leno handed him and asked the audience, "Who's first? I need some practice."
The actor does have some practice on the parenting front – he's already a father to Indio, 18, his son with ex-wife Deborah Falconer.
— Sara Hammel